Christmas New Orleans Style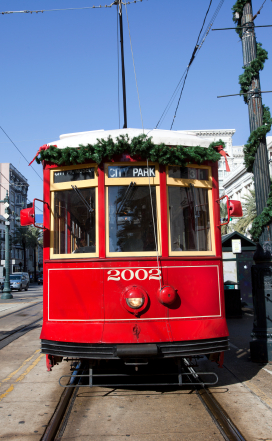 Christmas is a special time in New Orleans... it's an experience that you and your family don't want to miss. During the holiday season, the city is aglow with twinkling lights, decorated iron-laced balconies and streetcars decked out with garlands. Throughout the entire city, there are Christmas themed events everywhere you look during December.
Stroll through the French Quarter and you're liable to end up in conversations about the city with historical characters. Or join in on the delicious fun with one of the award winning cooking demos and learn the secrets of New Orleans style cooking. Make sure to visit the historic homes and tour the museums, all decorated for the holiday. Before you leave, spend time exploring the quaint shop lined streets and you'll find the perfect gift for that someone special.
New Orleans Christmas Events
Of course, in a city known for their parades, the month starts off with the Krewe of Jingle holiday parade along St. Charles Avenue and Canal Street. It's the perfect event to take the family to and enjoy parade floats, marching bands, Christmas characters and more.
Throughout the entire month, the St. Louis Cathedral, an iconic 200-year-old church, hosts weekly concerts and special events for all ages. In front of the St. Louis Cathedral, in Jackson Square, you can find candlelight caroling. Or it's just a short walk to climb aboard the riverboat and join in one of their caroling cruises. Not to miss is the theatrical performances or multicultural celebrations.
On every to-do list for every local and visitor to the city during the holiday season is to take a ride on the Canal Street streetcar out to City Park to see the Celebration in the Oaks. The Celebration in the Oaks consists of more than two million bright and shiny lights illuminating the park. Tour the grounds there and check out the poinsettia display in the Botanical Gardens, ride the miniature train and enjoy the nightly entertainment.
New Orleans Reveillon Dinners
Reveillon, which is French for awakening, is a holiday tradition in New Orleans. Reveillon is a special meal that traces its roots back to the mid-1800's when the city's Creole residents celebrated the event twice a year. The first time was right after Midnight Mass on Christmas Eve. After leaving the St. Louis Cathedral, families were eager to break their daylong fast with an elaborate meal. The second time was a gathering shared by a number of families on New Year's Eve. Traditional food and drinks include crystallized fruits, eggnog, pastries, meringues and sugar sculptures.
Fast forward to the present time and Reveillon is still celebrated in New Orleans. The only difference is that now the meal is celebrated nightly in restaurants throughout the city and the menu combines Creole cuisine and contemporary New Orleans food.