Fun Things to Boo

Think Halloween in New Orleans is just for kids? You are "dead" wrong. Thanks to Mardi Gras, adults as well as kids live to dress up here. Along with trick or treating, here are some "fun things to boo."
Krewe of Boo
Krewe of Boo, the official New Orleans Halloween parade, is a spooktacular event with 3-D papier mâché and fiberglass likenesses of Frankenstein, Dracula, and all your favorite ghouls. The parade makes its way through the Boo Carré, passing your favorite haunts as it heads toward the Convention Center. Learn more here.
Boo at the Zoo
The Audubon Zoo's annual Halloween party is a safe, fun-filled Halloween event for children up to age 12. You'll find trick-or-treat houses with candy, a Ghost Train, a haunted house, games, entertainment and more. Find out more.
Voodoo Music & Arts Experience
Fall in New Orleans is festival weather! This popular festival takes place annually on Halloween weekend at New Orleans City Park. Come "Worship the Music" with big-name headliners under magnificent centuries-old live oaks. Learn more.
Ghost Tours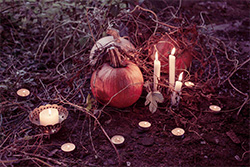 Scare up a few extra bucks and tour the "Most Haunted City in America" with an educated, entertaining guide who can bring the dead to life for you. The New Orleans Ghost Adventures Tour gives you the chance to step inside these old houses at night. Grayline Tours offers a nighttime Ghosts & Spirits Walking Tour that's sure to send a chill up your spine. Royal Carriages features a History & Haunts tour where your guide will entertain you with stories of ghosts, vampires and other things that go bump in the New Orleans night. And because everyone loves a scary tale, there's the French Quarter Kids Spooky Tour for children ages 5 to 10. Here the hosts can turn it down or up a notch, depending on the crowd. Learn more about ghost tours.
Need a mask? Shop themaskstore.com.