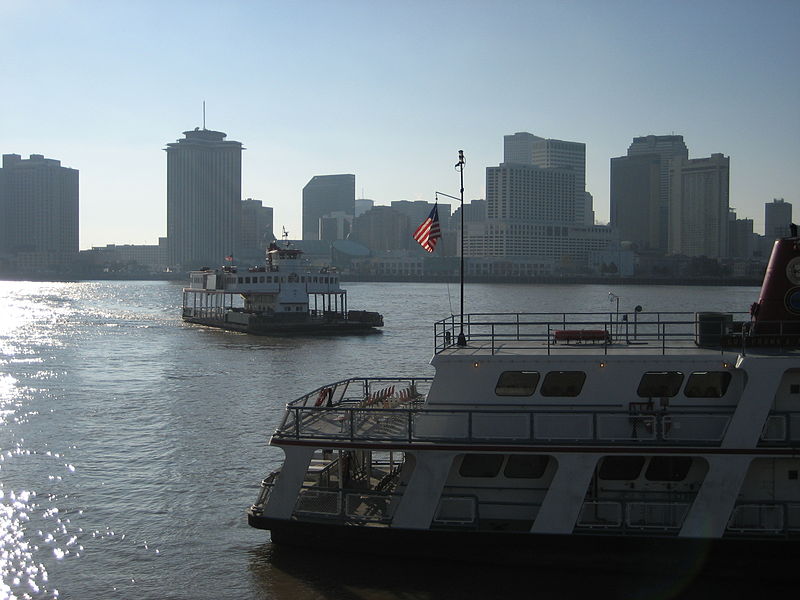 Did you know that there are New Orleans ferries that can transport you from one side of the Mississippi to the other? For free (or just a buck if you want to bring your car too).
While most people ride it to and from work, for free, you can ride it from the French Quarter to explore the Westbank, including the historic Algiers Point. Algeris Point is the second oldest neighborhood in New Orleans, founded in 1719, just a year after the French Quarter.
Algeris is known as a quiet escape from the hustle and bustle on the other side of the French Quarter. There's quiet bars and restaurants, historic architecture to see and tree lined streets to take in.
You can even bring your best friend Fido along and definitely don't leave your bike at home. Both pets and bikes re allowed on the ferries for free.
Algiers Ferry
The Algiers Ferry leaves from the New Orleans side at fifteen minutes and forty-five minutes past the hour, from 6 a.m. to 12:15 a.m. It leaves from Algiers every :30 past the hour. The ferry leaves from the foot of Canal Street, next to the Audubon Aquarium of the Americas.
Along the way, you can enjoy beautiful views of the French Quarter and New Orleans skyline.
Local's tip: Heading to the French Quarter, but don't want to deal with the craziness of parking over there? You can drive across the Crescent City Connection bridge and park in Algeris, then take the ferry over to the French Quarter. Not only is a free to park over there, but it may be quicker to drive a little further and take the ferry over, especially when there's a big event or popular festival happening.