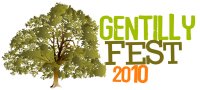 Gentilly Fest is all about bringing together the best of New Orleans' music, food, art, and great causes. Dedicated to supporting the Gentilly community and the city of New Orleans at large, the festival will show support to the New Orleans Police, Fire Department, EMS, and Children's Music camps. Gentilly Fest will also donate funds to the sports programs of Ponchartrain Park and Milne playgrounds.
But this festival isn't solely about charity. You and your family can have a great time listening to music at the main stage or in the Gospel tent. You can also shop in a diverse arts and crafts market featuring items like patchwork products, candles, books, baby supplies, artwork, jewelry, and much more. Keep the kids busy with pony rides, face painting, space walks, and numerous other games and activities. And don't forget the food! Fried chicken, pizza, gumbo, catfish, shrimp, corndogs, hot sausage, snowballs, and
lots
more. With everything going on, you'll certainly stay entertained!
Gentilly Fest is Saturday, Oct. 9th from 11 a.m. to 7 p.m. and Sunday, Oct. 10th from noon to 6 p.m. in the Pontchartrain Park. Entrance is free! Come on out, and support Gentilly and greater New Orleans.