Rudolph Guides Santa. Let Us Guide You.
Whether you're a child or just feel like one during the holidays, festive fun awaits in New Orleans. Enjoy traditional Réveillon dinners at your favorite restaurants and other festive events, some of which are virtual this year. And as far as shopping goes, Santa's most unique workshop is right here in New Orleans where hundreds of artists create gifts in all price ranges. Shop, eat and get in the holiday spirit this year in NOLA.
Please note: Due to Covid-19, events are subject to cancellation. Check first before you come.
Jazz Brunch with Santa at The Court of Two Sisters, November 27
Santa is holding court this December at one of New Orleans' favorite restaurants, The Court of Two Sisters in the French Quarter. Dash to Royal Street for a full brunch buffet (there's even a special buffet for kids), live jazz, a visit with Santa, and a gift for every child (naughty or nice, we're told). Reservations are required and space will fill up quickly. Call 504-522-7261, ext. 24.
Holiday Adventures with Gray Line Tours, Select Dates in December
Gray Line has two ways to get you in the holiday spirit, including a narrated tour of Celebration in the Oaks and Jingling through the Crescent, a motorcoach tour of the city on Christmas day. Learn more. NOTE: The Bonfire Adventure and Bonfire Express tours have been canceled this year.
Music, Music, Music!
This year, the Patio Planters are presenting Candlelight Caroling in Jackson Square, 2020 Style at the New Orleans Jazz Museum on December 20 at 7 p.m. For safety measures, a much smaller number of attendees have been chosen to receive tickets to the Sing-Along with the Patio Planters by lottery, but everyone can livestream the event here and download the songbook here. Plus, tune in for virtual holiday concerts from both St. Augustine Church and St. Louis Cathedral. Learn more.
Le Petit Theatre Presents A NOLA Noël
Celebrate the meaning of home this holiday season at one of these socially-distanced live outdoor performances featuring a cast of New Orleans' favorites and the seasonal music we all love. Click for tickets and more info.
NOLA ChristmasFest
The Convention Center's annual NOLA ChristmasFest indoor festival will take place virtually this year. With the help of community partners, they've developed a week-long virtual program of activities for kids and families to enjoy at home. Sign up for Christmas crafts, holiday baking, holiday dance classes, nightly book reading, and more. Learn more and register for activities.
Celebration in the Oaks, through January 1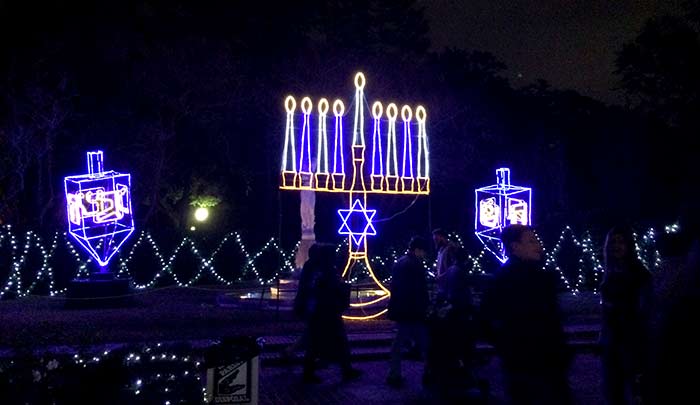 For more than 30 years, New Orleans has been heading out to City Park for one of the most popular holiday displays in America. This year, to keep you safe during Covid-19, you can drive your own vehicle through the park. Experience ancient live oak trees dripping in hundreds of thousands of lights and 25 acres of holiday displays. Learn more.
Christmas in Lafreniere Park Run/Walk, December 12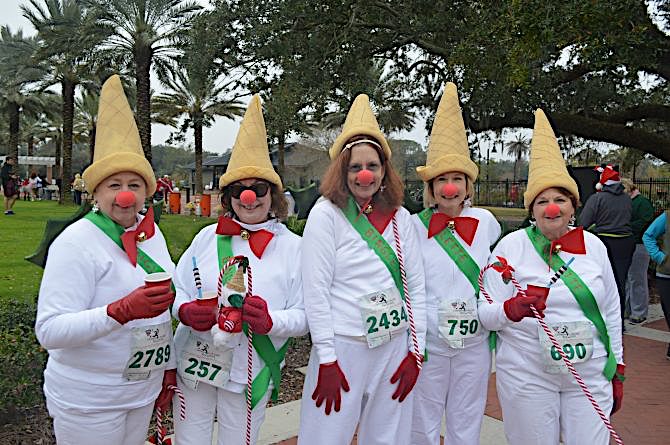 Sign the whole family up for this festive 2-mile race through Lafreniere Park, produced by the Crescent City Classic. Don your glow-in-the-dark race shirt and run through a glittering 60-foot Sea Serpent in the lagoon, a princess and her magical castle, a gingerbread man, plus a new Hot Wheels display, a Hello Kitty figure and animal hanging ornaments. Register now. Photo courtesy of ccc10k.com.
Preservation Resource Center Holiday Home Tour, December 12 & 13
The 45th annual Preservation Resource Center Holiday Tour will be virtual this year. Take a peek inside six of the city's loveliest homes all decked out for the holidays. Learn more and purchase tickets.
Christmas Eve Celebration on the Riverboat City of New Orleans, December 24
Spend a glittering Christmas Eve aboard Riverboat City of New Orleans, with live music and festive cuisine. View Christmas Eve menu. Reservations are required and holiday attire recommended. Reserve now.
42nd Annual Creole Christmas, December 27-30
Come see Beauregard-Keyes House, Gallier House, Hermann-Grima House and the 1850 House all decked out in their holiday best. Creole Christmas from the Friends of the Cabildo will be streamlined this year with two sessions per day with house cleanings between the morning and afternoon sessions. Masks are required and all the courtyards are open-air courtyards. Tour session run from 10:00 a.m.-noon & 1 p.m.-3 p.m. They are self-guided and begin at the 1850 House at 523 St. Ann Street. Purchase tickets or call 504.523.3939.
New Year's Eve Gala on the Riverboat City of New Orleans, January 1
Greet Baby New Year on Old Man River from the decks of the Riverboat City of New Orleans. View New Year's Eve Menu. Learn more and reserve your space.
The Allstate Sugar Bowl & New Year's Eve Parade, December 31 & January 1
On New Year's Day, the Allstate Sugar Bowl will kickoff in the Superdome. It's the second-oldest bowl game in the country (since 1935) and we think it's the most fun! Learn more.
Read: Reveillon Tradition Continues