A Day of Music
New Orleans R&B legend Ernie "Mother In Law" K. Doe famously said, "I'm not sure but I'm almost positive all music came from New Orleans." We're not positive but we're pretty sure he's right. Spend a day touring the city with this itinerary and come to your own conclusion.
Tell Your Driver to Head for the Clarinet (the Holiday Inn Downtown Superdome)
Located in the neighborhood where Louis Armstrong grew up, the Holiday Inn Downtown Superdome (famous for the huge clarinet mural on its side) is also known for its murals celebrating the musical history of New Orleans. It is also home to the Clarinet Lounge, a great place to relax at the end of the day. It's on the streetcar line and is a beautiful modern place to stay. Check in and check out New Orleans!
Take In breakfast at Café Beignet Musical Legends Park
This outdoor courtyard and patio bar at 311 Bourbon Street is dedicated to the preservation of New Orleans' Musical Culture. Live Jazz is played at Café Beignet from 8 a.m. till midnight and they have the best beignets in town. Take a selfie with bronze statues of Al "Jumbo" Hirt, Antoine "Fats" Domino, Pete Fountain, Chris Owens, Ronnie Kole, Louis Prima, Allen Toussaint, and Irma Thomas.
Tour the Jazz Museum at the Old U.S. Mint
Housed in the historic Old U.S. Mint near the French Market, the New Orleans Jazz Museum features instruments, sheet music, photographs, records, tapes, manuscripts and other rare items that tell the story of jazz. Come see a 1917 disc of the first jazz recording ever made and the world's largest collection of instruments owned and played by important figures in jazz, including Louis Armstrong, Bix Beiderbecke, Edward "Kid" Ory, George Lewis, Sidney Bechet and Dizzy Gillespie.
Enjoy Lunch and a Harbor Cruise on the Steamboat NATCHEZ
Jazz was born in New Orleans but it traveled to the rest of the world by steamboat. Here's your chance to take in magnificent views of Old Man River and the city of New Orleans while listening to the swinging sounds of Duke Heitger's Steamboat Stompers Jazz Trio. A calliope concert is also included (you couldn't miss it if you tried). The Steamboat NATCHEZ boards at 11 and ends at 1:30.
Listen to the Street Musicians on Royal Street
Between activities, take a stroll down Royal Street where all kinds of street musicians will play and serenade you throughout the day. If you're lucky, you'll see a second line parade. Practice your buck jumping and hanky waving.
Visit the Treme and Congo Square
Discover the Treme, the birthplace of many famous musicians and home to Congo Square in Louis Armstrong Park, where many say jazz was born.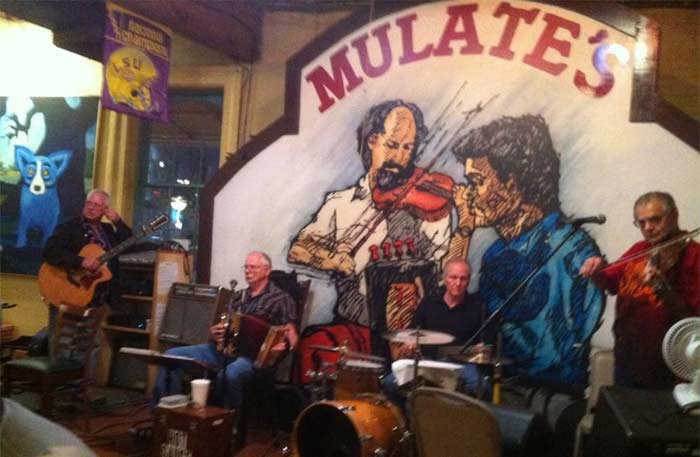 Learn How to Cajun Dance at Mulate's Cajun Restaurant
Dinner tonight is at Mulate's, "the King of Cajun Dance and Dine Halls." Located at 201 Julia Street, Mulate's features live Cajun music and dancing nightly along with great home-cooked Cajun food.
Take in Some Authentic New Orleans Jazz at Maison Bourbon
You haven't been to New Orleans till you've been to Maison Bourbon, one of Bourbon Streets' oldest live jazz clubs. Get reborn in the birthplace of jazz!
Meet for a Cocktail and Music at the Royal Frenchmen Hotel and Bar
Frenchmen Street is the place to be if you love New Orleans music. The street is lined with clubs featuring music of all kinds, frequented by locals and visitors alike. Start or end your evening at the Royal Frenchmen Hotel and Bar, offering offers fine craft cocktails, local beers and free live music nightly.
Our self-guided itineraries are options for visitors who want to go it alone. If you'd prefer to tour the city with a guide or a historian, click here. These are all tours we have experienced ourselves and highly recommend.
Discover the Music of NOLA Tour.
Read more about The Music of New Orleans