Be in the NOLA: Q&A
New Orleans is a city like no other. Our customs and celebrations are world-renowned, but you may not know all of the necessary details to help you get around. Here are some of the most frequently asked questions about New Orleans, Jackson Square and Mardi Gras.
If we don't answer your question, please email us and we'll help you out!
It's my first time in New Orleans. What should I do?
Check out list of New Orleans Attractions to get you started. These are our suggestions, but they are just the tip of the iceberg. There is so much to see and do, so talk to a local once you get here, get a few more ideas from him or her, then get out and go exploring.
What's happening in New Orleans this weekend?
Check out our events calendar for an over view of all of the events through out the year. Then check out our blog for more updates. We're always posting about upcoming events and things to do.
Where should I stay in New Orleans?
Visit Best New Orleans Hotels for our recommendations of hotels in New Orleans and the French Quarter. We visit every hotel personally to be able to recommend them to you.
How much does the streetcar cost?
Price is just a $1.25 per ride and $0.25 per transfer. You can by an all day pass that gives you access to all 3 lines for $3. You'll pay for your ride when you board the streetcar using cash or coins. Don't worry if you don't have exact change - a credit for future rides will be issued with the excess amount. CLICK HERE to learn more about the historic New Orleans Streetcars.
Can I rent a bike or stroller?
Yes, there are companies in the city who will be happy to rent you a bike, stroller or even a wheelchair.
We are flying to New Orleans with our children; will we be able to secure car seats for them for our rental car?
Yes! Not all taxis or Ubers/Lyfts have car seats for children; however, a local company, Rockabye Baby Rentals has car seats for all sizes of children and you can rent them while here. They also provide strollers, cribs, and more with delivery 7-days a week. Just call them at 281-550-7885 for reservations. More info: visit their site
Why do they call New Orleans the Big Easy?
You'll find a lot of different opinions on the origin of the nickname. Wikipedia lists references to musicians' ease in finding work in the early 20th century, a nickname during the Prohibition, and a name used by a local columnist in reference to housing prices.
One thing is for sure: New Orleans goes at a slow, relaxed pace and a laid back attitude about life. We're all about enjoying the experience.
When was New Orleans founded?
Our city was founded May 7, 1718 by the French. It's named after Philippe d'Orleans, a member of the French royal family and a Duke.
Where in New Orleans is jazz performed?
The real question should be where isn't it performed. It's played every day from brunch at restaurants to late at night in the music venues around the street. You may even see a brass band performing on the corner or marching in one of our second line parades. For a full list of venues and more history about New Orleans jazz, check out our Music section. A few of our favorites are below.
1. Preservation Hall - Anyone visiting who wants to hear New Orleans jazz has to go there! Best of all, it is a family-friendly venue; since they do not serve alcohol, visitors of all ages are welcome. Located in the French Quarter on St. Peter Street, Preservation Hall show time is at 8 p.m., Thursdays-Mondays.
2. Palm Court Jazz Café is another great place to hear traditional jazz. Show time is at 8 p.m. every night except for Mondays and Tuesdays. Must be 21 to be in the bar area, but the restaurant area is family-friendly.
3. Restaurants that also offer traditional jazz: The Court of Two Sisters has a daily jazz brunch, and the Steamboat Natchez offers lunch and dinner jazz cruises.
4. On almost any weekend afternoon, you can walk around the French Quarter and hear street musicians along Royal Street and on Chartres Street in front of the St. Louis Cathedral. Traditionally, you can also hear some great music outside the gazebo in the French Market area on the corner of Decatur and Ursuline Streets.
Where do I park?
Like any city, parking can be a little tricky. There's street parking, some free and some have meters. You have to pay the meters Monday through Saturday, between 8 am and 6 pm. If you're staying at a hotel, many have on site parking. There's also parking garages scattered through out the French Quarter and Central Business District. See Parking in New Orleans for lots more tips about parking in the city.
Are there beaches in or near New Orleans?
The closest beach to New Orleans is in Mississippi on the Gulf Coast, about an hour away. However, two more hours and you'll be on the beautiful white sandy beaches of Florida!
How can I be a vendor?
You'll need to contact the City of New Orleans. Fees and regulations vary widely.
Are businesses in New Orleans wheelchair accessible?
For information on wheelchair accessibility at restaurants in and around New Orleans, please consult the Advocacy Center.
If you are looking to rent a mobility scooter or wheelchair then please check out Mobility City or call them at 504-977-2690.
Are there RV parks in the area?
New Orleans has several RV parks – some are within walking distance of the French Quarter and others offer shuttles. Learn more.
Is camping available anywhere around New Orleans?
There are two KOA campgrounds, one on each side of town. The KOA New Orleans East is in Slidell, one-half mile east of the I-10 (near the Honey Island Swamp!). They provide full hookups. The KOA New Orleans West is in River Ridge. It is the closest KOA, a little west of the city, and welcomes tents and RVs.
What is the drinking age in New Orleans?
The drinking age in the city of New Orleans is 21 at all times of year...and it is strictly enforced.
Is New Orleans safe?
In any major city, you need to be safe about the way that you travel. Here are a few tips:
Use maps or your GPS to plan routes before getting behind the wheel.
Be aware of your surroundings and avoid suspicious characters.
Travel in groups.
Remove valuables from cars after parking.
Lock windows and doors in rooms when leaving.
Try not to walk alone at night.
Stick to well-lit, well-populated areas.
Take a taxi rather than risk getting lost walking among unfamiliar streets.
Don't wander around the French Quarter after dark alone, and try not to wander too far past Bourbon Street.
Need cash for that last hurricane or souvenir? VISA's ATM Locator will find the three closest ATMs to wherever you are (and they provide a map!).
---
Jackson Square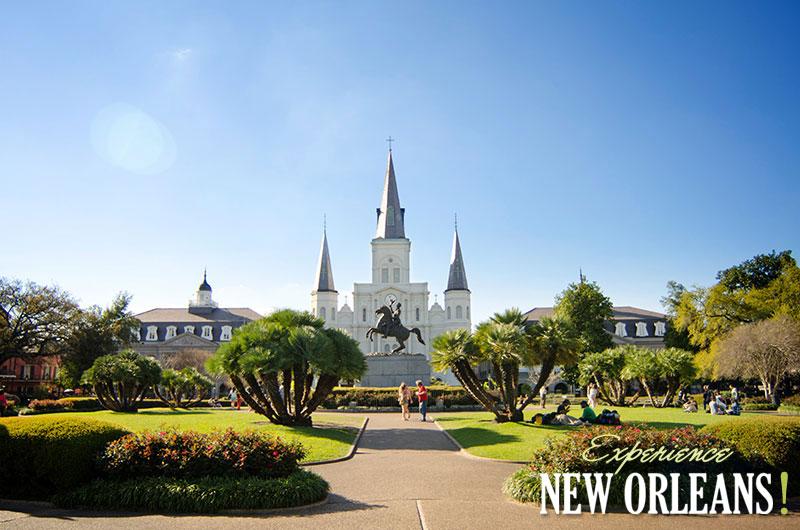 How can I become an artist in Jackson Square?
You'll need to get a permit from the Bureau of Revenue. Only 200 permits are issued annually and there's always a waiting list. The permits are renewable every year in January: those that aren't renewed become available to new artists. As of 2013, there's a $20 application fee and the permit and license is $175 per year. The permits allow original hand –painted or drawn-on-a-plain-surface works.
Can you help me find a specific Jackson Square artist? l want to purchase another piece of his work?
Because the list of resident artists is ever changing, the only organization that keeps an up to date list is the city.
What are the hours that Jackson Square is open?
The answer is that the hours vary by season. It's open dawn to dusk, in the winter that could mean closing at five, during the summer it's later than seven.
---
Mardi Gras
What is the parade route for the big Mardi Gras parades?
The street in the middle of all the parade action is St. Charles Avenue. It's an absolutely beautiful oak-lined street, and every major New Orleans parade passes by. The action starts at Napoleon, and many people picnic there all day in preparation for the bigger parades. There are a couple of popular restaurants and lounges in the area, and music is always playing. It's the place to be for a lot of fun-loving folks! Some people stay in the Quarter to see the action there, but no real parades go by down there. It IS a crazy place to be, and extremely crowded at night.
Where can I see the Mardi Gras Indians?
Unlike the parading Krewes, the Indians don't publish their routes. Instead, they gather through out the city. Some gangs are known to meet at the corner of Claiborne and Orleans after the Zulu Parade, but this isn't guaranteed.
Also there is Indian Sunday, the third Sunday of March. For more information, visit this Super Sunday page.
Is Mardi Gras Day the beginning or the end of the celebration?
Mardi Gras Day is the formal ending of the Carnival season and makes room for Lent. If you want to come down to celebrate, make sure you're here for the weekend before Mardi Gras.
Can you tell me what hotels are near the parade route?
Most major parades pass travel down St. Charles Avenue in the Garden District and through the Central Business District. Be sure to check out our full list of hotel recommendations for Mardi Gras.
How can I ride in one of the parades?
Some Krewes are invite only. Others just require you to let them know that you're interested. Email us and we'll send your information to the Krewe captains. We can't make any promises, but we'll at least get the information to the right person. To ride in a parade, it will cost somewhere between a few hundred and a few thousand dollars which goes towards beads and keeping the floats rolling.
What else is there to do in New Orleans besides Mardi Gras?
You'll find music, food and other festivals throughout the year. It doesn't just seem like there's something going on every weekend, there is. Plus, there are always the other attractions, restaurants and shops to visit around town.