Bonfires on the Levee
Looking for Mardi Gras Parades? Click HERE for this years schedule!
Date: Dec 24, 2023
Location: Gramercy, Lutcher & Paulina, LA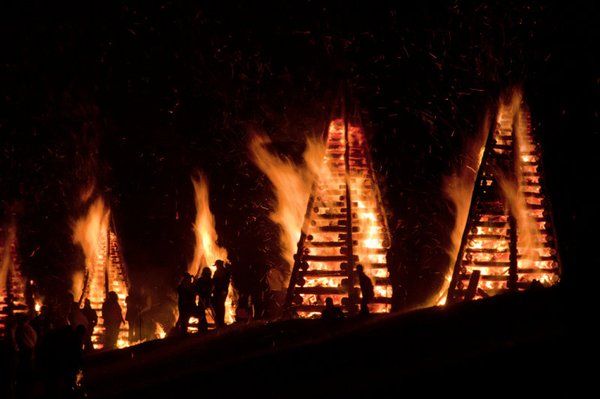 Welcome the Cajun Santa Claus this Christmas Eve with Bonfires on the Levee
The early Cajun settlers in southern Louisiana brought many traditions that still stand today. One of them is a special Christmas Eve celebration that included bonfires lit along the levees of the Mississippi River north and west of New Orleans.
Be part of this year's festivities and enjoy a traditional Cajun Christmas with more than 100 bonfires in St. James Parish up the river 30 or 40 miles from New Orleans, as well as in Gramercy, Lutcher, Paulina and other areas.
History of the bonfires
The purpose of Christmas Eve bonfires is to show the Cajun Santa Claus – known locally as Papa Noel – where to fly and land as he soars across southern Louisiana. Historically, bonfires were also set blazing to lead the way to Midnight Mass at local Catholic churches.
Bonfires for this celebration originally were created from a pyramid of long logs, making the shape of a cone. Often they were 20 feet tall and could be seen from quite a distance. In modern times, revelers have gotten creative, erecting bonfires in the shape of things we know such as Cajun cabins or pickup trucks.
When night falls on Christmas Eve, the structures are set on fire, creating a lovely, vibrant glow all along the river, lighting up the night sky in a way that will surely catch the eye of Papa Noel and his team of reindeer. Some bonfire organizers provide bowls of gumbo to those who come to watch the spectacle. It's not uncommon to witness colorful fireworks set off within the bonfire flames.
A safe event for everybody
Fire needs to be monitored, so local fire departments dispatch personnel to keep an eye on the bonfires and make sure the crowds remain safe. For this reason, Christmas Eve bonfires on the levee are perfect gathering places for families with kids of all ages.
In the most-concentrated bonfire areas, vehicle traffic is sometimes restricted or not allowed at all. This is another safety measure. Typically, there are parking lots arranged that are within convenient walking distance from the fires. It's smart to anticipate quite a bit of traffic, so visitors are encouraged to decide where they want to go and get there early.
A popular way to experience the Christmas Eve bonfires is to take a tour with Gray Line New Orleans. There are two tours: one that's four hours and focuses on just the bonfires; another that's over six hours and takes in the San Francisco Plantation, where guests enjoy a holiday meal.
If you want to get your Christmas bonfire spirit started early, you can watch a beautiful bonfire in New Orleans on the levee at Algiers Point, on the city's west bank, opposite the French Quarter. This even happens in early December and is sponsored by the Algiers Economic Development Foundation. Contact the foundation at (504) 362-6436 for details on this year's celebration.