Celebration in the Oaks
Looking for Mardi Gras Parades? Click HERE for this years schedule!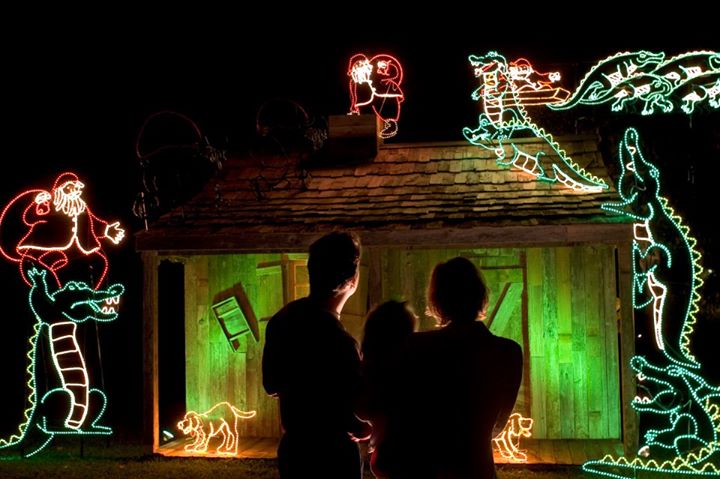 Celebration in the Oaks is an annual holiday lights festival that's a favorite for kids, adults, locals and visitors to New Orleans. In recent years, due to the pandemic, the event has been experienced as a driving tour.
Hung from the historic oak trees in City Park are hundreds of thousands of lights that turn 13 acres of park – the Botanical Garden, Storyland and Carousel Gardens - into a holiday wonderland. It's a holiday tradition that brings back families year after year.
The celebration includes an impressive 558,350 LED bulbs, including 42,000 LED bulbs in the "Dripping Snow Tree" and 32,800 feet of rope lights. Light displays vary from beautifully decorated lighted walkways to Christmas trees decorated by local students and, of course, the Who Dat tree, which is a destination for every Saints fan. Local favorites include the animated Cajun Night Before Christmas and spotting Mr. Bingle, New Orleans's legendary snowman.
The amusement park will be fully operational and rides will be available to visitors as part of an add-on page.
If it's a chilly night (or even if it's not), they have hot chocolate for the younger members of the family and hot buttered rum for adults. Snacks and other food are also on hand, if anyone gets hungry.
Tickets are priced at $10 per person. Children three years of age and under get in free. Amusement park rides are $4 per ride or $18 for an unlimited ride band. The train ride around the park is $5.
For your GPS, Celebration in the Oaks is located at 1988 Victory Avenue, New Orleans, 70124.
We'll see you there.
PLEASE NOTE: This event will be CLOSED on Christmas EVE and New Year's EVE.