St. Joseph's Day and Irish-Italian Annual Parades
St. Patrick's Day is not the only parade in New Orleans in March! New Orleans always finds a reason to celebrate, and there are two parades in celebrate Italian (and Irish) heritage in the French Quarter and in the suburb of Metairie.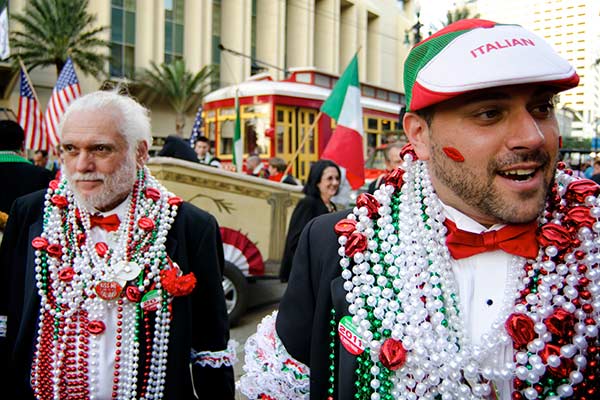 Italian-American St. Jospeh's Day Parade generally takes place on the Saturday closest to St. Joseph's Day, starting at 3 pm at the intersection of Convention Center Blvd. and Girod Street. In 2024, this parade will take place on Saturday, March 16.
The Italian-American Marching Club was established in 1970 by Joseph Cardenia and friends. It is one of the largest ethnic organizations in the southeastern United States. The membership totals has grown to 1,500 strong in the past few years.
Their objective is to keep Italian heritage prevalent in New Orleans, the destination of many Italians in the 19th and 20th centuries. The focal point of their organization incorporates the focal point of New Orleans's festive culture – the parade each St. Joseph's Day. The event begins with pizza, wine and Italian music, before the marchers who are dressed in black tuxedos march through the French Quarter. Locals and visitors line the streets to join the celebration and the marchers exchange salutations, hand out silk flowers and fava beans, as they dance and sing through the streets.
The Louisiana Irish-Italian Parade in Metairie always takes place the Sunday after St. Patrick's Day, starting at noon in the suburb of Metairie and proceeding down Veterans Boulevard, with a traditional detour up and down Severn Avenue (one of the city streets featuring a neutral ground). In 2024, this parade will take place on Sunday, March 24.
The parade originated many years ago, when Italian Henry Hoff and Irishman Eddie Renton, Sr. decided it was time to have their own parade. The two friends' motto was, "It's about time we get together!" It didn't take long to interest others in the idea, and the "Irish-Italian Parade" was born! The original 10 board members have been in charge of organizing the event ever since their first parade in 1984.
One thing that makes this parade unique is its two "Grand Marshals"--one Italian and one Irish! Previous Grand Marshals have included New Orleans politicians, judges, and businessmen.
Vist St. Patrick's Day New Orleans for more information on the St. Joseph's Day parades.