Krewe of Boo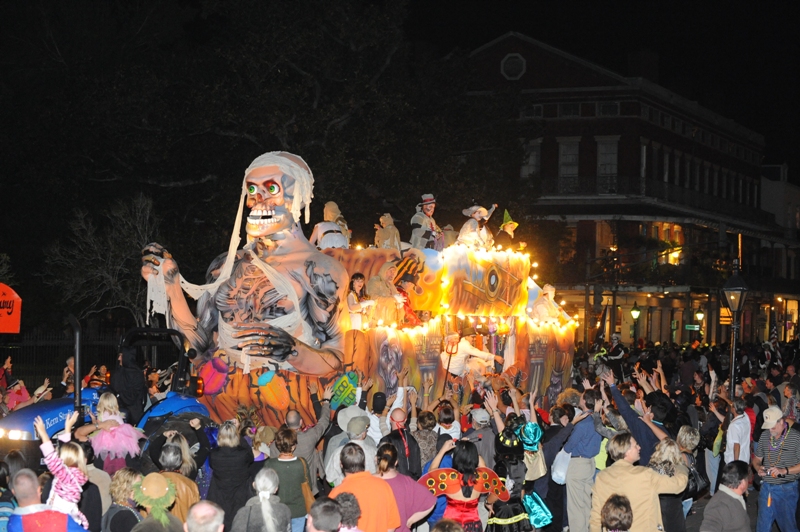 Krewe of Boo, New Orleans' official Halloween parade, is scary fun! Spooktacularly enough, it is the only major parade with full size floats to travel through the French Quarter.
The Krewe of Boo started in 2007 has become a top-notch event you don't want to miss. There are world-class floats designed and built by Kern Studios, the best marching bands from the city, and a number of special marching units.
Start practicing saying "Throw me somethin', monster!" Instead of the generic beads that often end up on the ground after the parade passes, Krewe of Boo throws primarily locally made throws that are food items and collectables.
If you're interested in riding on a float, you can find membership information here. The Krewe promises that it'll be a once in a lifetime night that you'll never forget.
Be sure to check out the Zombie Run the morning of the parade!
Parade Route
The parade starts on Elysian Fields Avenue in the Marigny and travels into the French Quarter on N. Peters Street. It takes a left on Canal Street and travels up Canal until Dauphine Street where it makes a U-turn and heads back down to Tchoupitoulas Street where the parade comes to an end.
Assemble at Elysian Fields Avenue
Parade Down Elysian Fields Avenue to North Peters Street
North Peters Street to Decatur Street
Decatur Street past Jackson Square to North Peters Street
North Peters Street to Canal Street
Up Canal to Burgundy then U-turn
Down Canal Street to Tchoupitoulas Street
Tchoupitoulas Street to Andrew Higgins Drive​​
Monster Mash!
Join in the fun at the annual after-parade costume party, the Monster Mash. The location is at Generations Hall.
There will be food, booze, and music. Krewe members get in free, but it's open to the public to purchase tickets. Costumes are required.
Click HERE to get your tickets!