Red Dress Run
Looking for Mardi Gras Parades? Click HERE for this years schedule!
Date: Aug 12, 2023
Location: New Orleans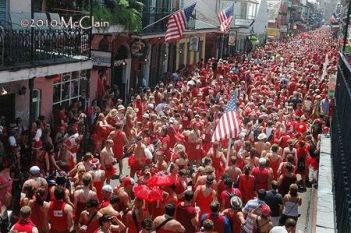 Red Dress Runs aren't exclusive to New Orleans, but this is the only one that can claim it's the "biggest little Red Dress event in the world."
With thousands of people turning out in their best red dresses each year, the annual Red Dress Run is an exciting event you do not want to miss! Add outlandish costumes, live music and a whole lot of alcohol, and you get one of the most uniquely New Orleans 5k(ish) events.
The run is sponsored by the New Orleans Hash House Harriers, the self-proclaimed "drinking club with a running problem." Don't let that description fool you though - it's not just about the alcohol. The Red Dress Run doubles as a fundraiser. All proceeds from the event go directly to charity.
Race Info
The New Orleans Red Dress Run traditionally falls on the second Saturday of August. The running begins at 11:30 a.m. (rain or shine), but the beer starts flowing at 9:30 a.m. The route is kept a close secret until the day of the event, although this year it will begin in Louis Armstrong Park, and it usually goes through the Marigny. Expect to run a full two miles.
The Rules
Wearing a red dress is a must, and running in the same dress two years in a row is considered bad form. That's why the organizers have put together a red dress swap for participants who make return appearances. The HHH Haberdashery team will also be glad to outfit you with some of their over-the-top, fun clothing items before you get started.
You must be 21 to participate – no exceptions. Underage bystanders are also prohibited.
Registration
Cost for registration can vary depending on how early you sign up and if you want to sign up for related events, like the Friday Lingerie Run and the Sunday Hangover Run. Participants also have the option to give a tax-deductible donation when registering.