Gumbo! by Mom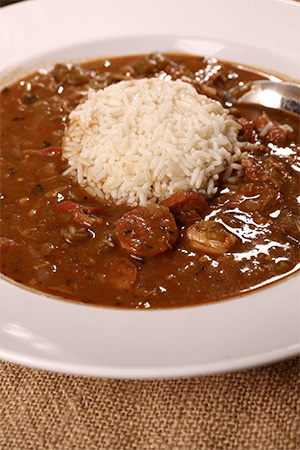 Ingredients:
For shrimp and okra gumbo:
3 tablespoons of vegetable oil
3 tablespoons of flour
l large chopped onion
1 cup chopped celery
5 or 6 cloves, chopped garlic
1 cup of chopped green pepper
1 can of tomato sauce
1 can of tomatoes ("Rotel" tomatoes for a spicier taste!)
1 pound, fresh sliced okra (or 2 boxes of frozen sliced okra)
2 pounds of fresh shrimp
2-3 cups water
salt & pepper to taste
1 teaspoon of sugar
1 tablespoon of chopped parsley
1 bay leaf
For seafood gumbo, add to the above:
1 small can of crabmeat or 3 fresh gumbo crabs
1 jar oysters
Cooking Instructions
Slowly stir the flour into heated oil in a heavy cast iron skillet. Continue to stir until the flour is dark brown. Add the next 4 ingredients; stir until onions are clear.
Add tomato sauce. Stir until it gets crumbly or dry. Fry okra in another skillet until it is no longer sticky or stringy. Add tomatoes and fried okra.
Cook slowly, adding 2 to 3 cups of water--a little at a time. Season with salt and pepper to taste. Stir in one teaspoon of sugar.
Cook for about an hour on a low fire, stirring occasionally to prevent sticking to the bottom of pot and adding water if necessary. Add the shrimp and the bay leaf (and if desired, the oysters and crabmeat).
Cook another 30 minutes to an hour, adding seasoning to taste.
Serve over boiled or steamed rice.
For those of you visiting New Orleans, you can enjoy the great taste of Gumbo from the world-renown Gumbo Shop, or if you're passing through Metairie you can try the Gumbo where the locals go at Chef Ron's Gumbo Stop. If you haven't made it for a visit yet and would prefer the great taste of Gumbo without cooking it from scratch, you can now order it online!
Enjoy the taste of New Orleans!
Try our Recipe Menu for more fantastic New Orleans recipes.