New Orleans Street Adventures - Canal Street
Canal Street: "The Great Wide Way"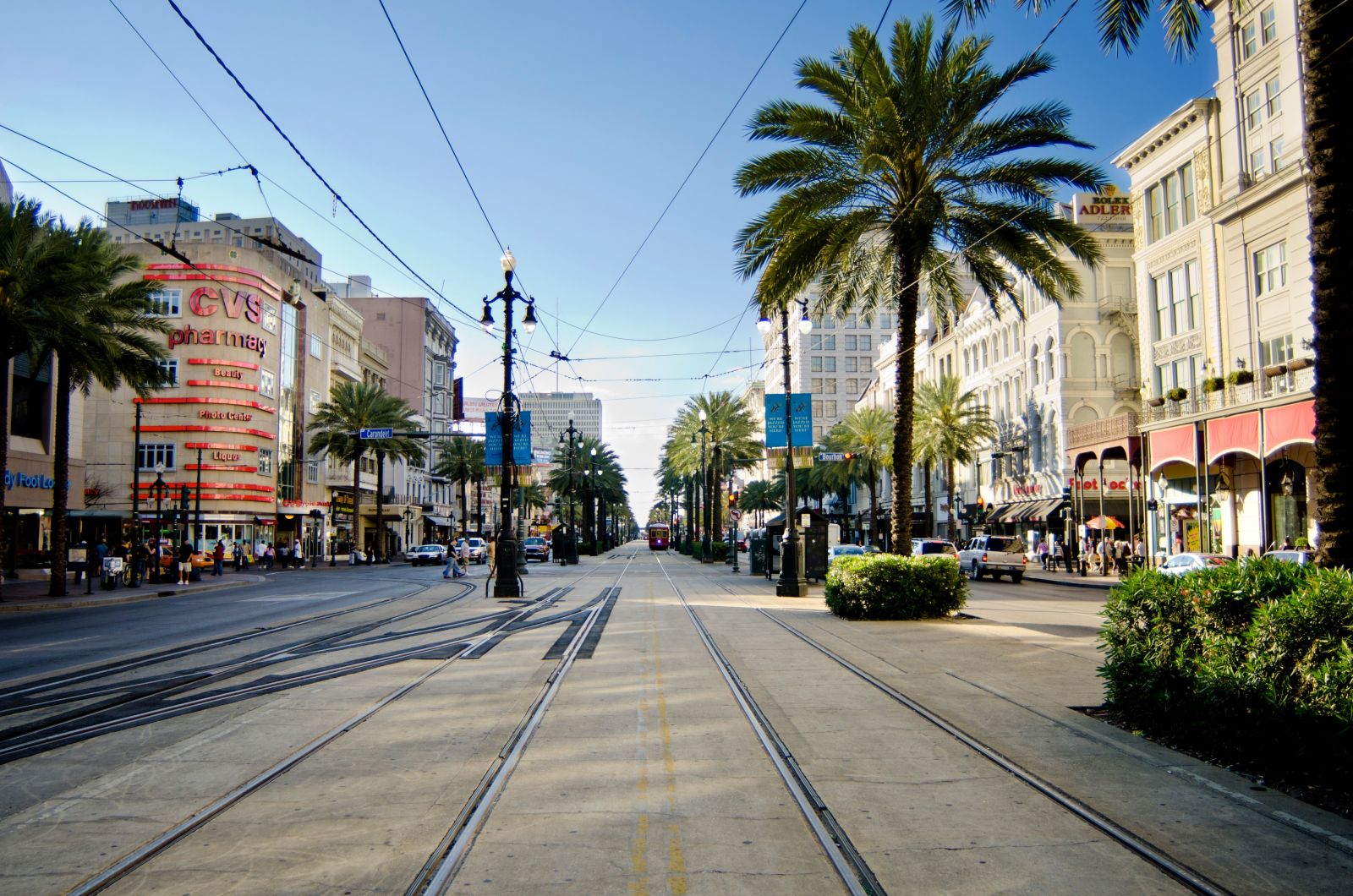 Before we start, you're probably wondering, "Why Canal Street? Where's the Canal?" The truth is there never was one. Oh, there were plans to build a canal that connected the river to Lake Pontchartrain, but it never happened. For some reason, however, the name stuck.
In the early days, Canal Street was a kind of dividing line – a neutral ground – between the French Quarter where the wealthy Creoles lived and the American side where the nouveau riche started building their mansions. Today all medians in New Orleans are called "neutral grounds." Now you know why.
Most of our parents remember a time when locals would dress in their Sunday best and head down to Canal Street for shopping or go to the theater. You could shop for your fur at Gus Meyer during the day and show it off under the glittering neon lights of the Orpheum or the Saenger Theatre that night.
But, like most major downtown thoroughfares, New Orleans finest department stores moved to the malls, and the street turned into a sea of t-shirt and electronic shops. In recent years, Canal Street has experienced a renaissance with opening many first-rate hotels and the swanky Shops at Canal.
Just across the street from Canal Place is Harrah's New Orleans Casino. New Orleans only land-based casino had its ribbon-cutting in 1999, almost 175 years after America's first gambling casino opened its doors in New Orleans in 1822. Along with every kind of game imaginable, Harrah's is home to several authentic New Orleans eateries, including Acme Oyster House.
Moving further away from the river down Canal Street, you'll pass the award-winning Cafe Beignet on the left. Don't leave the city without stopping. Still further, you'll the Saenger Theatre on the right. In 1927, Saenger's architect Emile Weil had 150 lights installed in the theater's ceiling, arranged in the shape of the constellations in the night sky. There were also machines that projected sunrises, sunsets, and moving clouds. The Saenger has been renovated twice since its opening, most recently after Hurricane Katrina. Today, it's a great place to catch Broadway plays.
If you have time, get off at the end of Canal and tour The Historic New Orleans Cemetery District. Most of these "Cities of the Dead" were built in the mid-1840s in response to cholera and yellow fever epidemics. One of the most beautiful is Metairie Cemetery, built-in 1872. Come admire the magnificent above-ground tombs and see where New Orleans buried its heroes, scallywags, and jazz cats. For a list of guided cemetery tours in the city, click here.
Our self-guided itineraries are options for visitors who want to go it alone. If you'd prefer to tour the city with a guide or a historian, click here. These are all tours we have experienced ourselves and highly recommend.