Taxi in New Orleans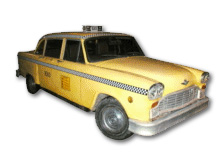 The taxis are like the "horse of a different color" in the land of Oz. Many taxis are privately owned, so one will look different from the other -- even those within the same company.
Rates from the airport are $33.00 for 1 or 2 passengers and $14.00 per passenger for 3 people and up.
A taxi ride within the city will cost you $3.50 plus $2.00 per mile or .25 per every 40 seconds of waiting time (stuck in traffic, etc). There's a $1.00 charge per additional customer.
Call Taxi Bureau at (504) 565-6272 if you have questions regarding rates or meter charges).