Art for Arts' Sake
Date: TBD
Location: Warehouse District - Julia & Magazine Streets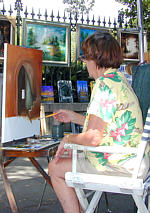 For decades, artists of all kinds have looked to New Orleans for inspiration. The liveliness of the city is felt and shown through paintings, sculptures, photos, wood carvings, modern art pieces and more. To this day, artists dot the streets of the French Quarter, and art galleries thrive throughout the city.
Many of those artists and galleries will be playing host to thousands of art aficionados during the Art for Arts' Sake festival. Hundreds of chic galleries and shops along Magazine Street and Julia Street will open their doors to kick off what is considered the opening day of the city's art season.
For three hours, buyers and art lovers alike are welcome to browse the galleries, and in many cases, visit with the artists whose work is being shown. In recent years, over 30,000 people have come out for the event, making it one massive art party. The dress is casual, although this crowd tends to draw some pretty snappy dressers. It's not hard to feel like you're in the middle of New York fashion week.
Portions of the streets surrounding the galleries are closed off to traffic, creating an easy-walking atmosphere that's perfect for a night of art browsing. Food and drink vendors often set up shop outside many of the galleries, so you never have to go far for refreshments. Just be sure to bring cash. If you want to sit down and eat, then there are many restaurants nearby to choose from, but we strongly recommend securing a reservation beforehand.