Bayou Classic
Looking for Mardi Gras Parades? Click HERE for this years schedule!
Date: Nov 26, 2022
Location: Caesars Superdome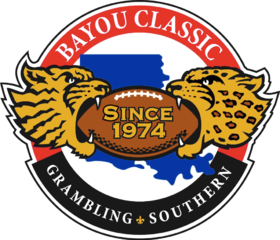 In terms of rivalries, the one between the Tigers of Grambling State and the Jaguars of Southern University is huge. For almost 40 years, whenever the two university's football teams play, it's not just a game; it is five days of competitions, parades and more, ultimately leading up to the big game.
Start the fun by watching the Bayou Classic Thanksgiving Day Parade, which starts at the Caesars Superdome and makes its way down to the French Quarter. The following days are full of activities, including a golf tournament, fan festivals, a career fair and – our favorite – the battle of the bands.
The Battle of the Bands and Greek Show that Friday at the Caesars Superdome is not to be missed. The Grambling "Marching Tigers" and the Southern "Human Jukebox" will go head to head; it's an awesome display of music, team pride and tradition. The fans love it!
When game day arrives, you can feel the excitement. The Bayou Classic might be one of the most high energy college football games you'll see all year.