Mercedes-Benz Superdome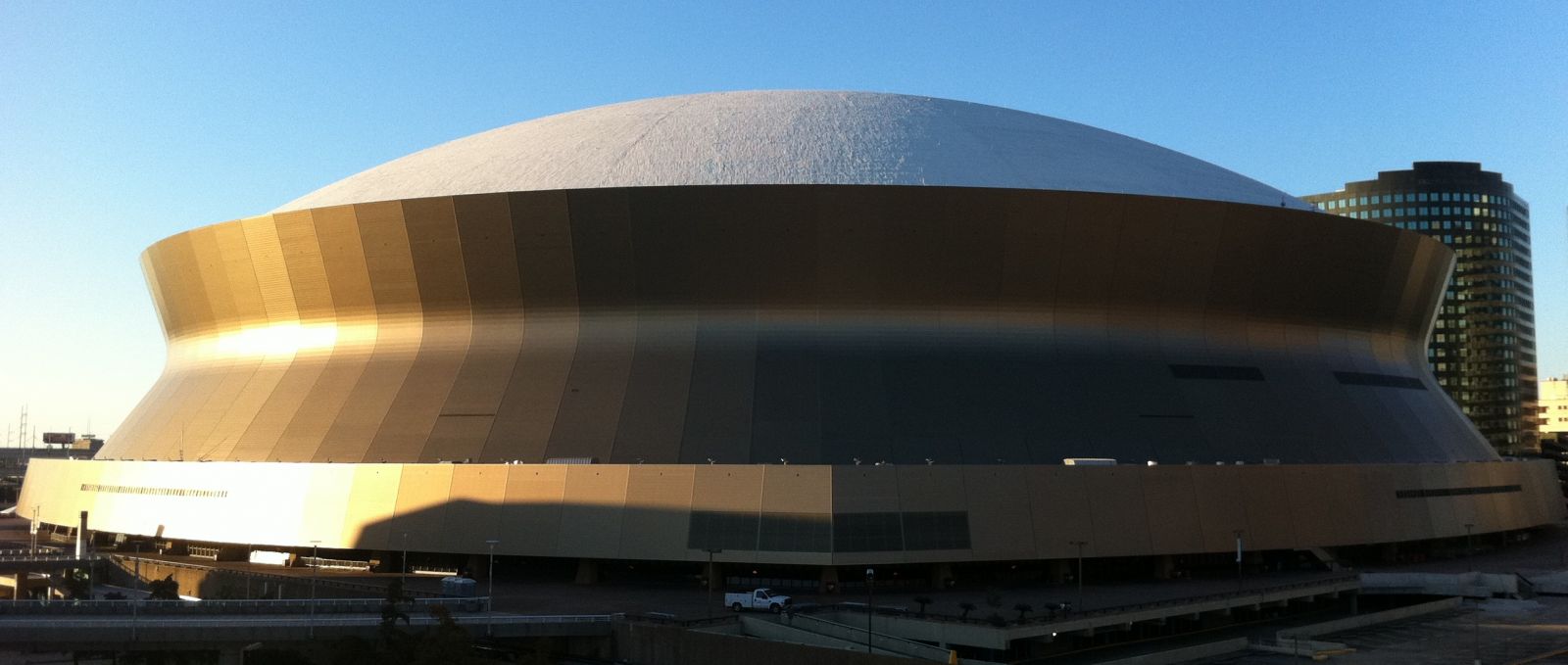 Now over 40 years old, the Mercedes-Benz Superdome is a hot spot for a variety of events such as boxing, basketball, soccer, motocross and, of course, New Orleans Saints football. In 2005, it served an even more important purpose: a "shelter of last resort" for displaced victims of Hurricane Katrina.
At that time, and from its inception in 1975, the 75,000-seat stadium was known as the Louisiana Superdome. It has borne the name of the car manufacturer since 2011.
While big-name professional wrestlers, gymnasts from as far away as Russia and rough-and-tumble speedsters from the National Hot Rod Association have entertained here, the main draw has always been football.
Capacity crowds come to watch the Saints, providing what is considered one of the loudest and most boisterous fan bases in the NFL. Seven Super Bowls have been staged in the Superdome, most recently Super Bowl XLVII in 2013, wherein the Baltimore Ravens defeated the San Francisco 49ers by a score of 34-31.
The Superdome is also home to the annual Bayou Classic and Allstate Sugar Bowl. Other major sporting events have included the College Football Championship Game and the NCAA basketball Final Four.
Music also has been a big part of the Superdome's history. Over the years it has played host to such names as Merle Haggard, Johnny Cash, Aretha Franklin, the Charlie Daniels Band, the Allman Brothers, Waylon Jennings, the O'Jays and many others.
Regardless of the event, the Mercedes-Benz Superdome is worth a visit to marvel at its sheer size and scope. The steel frame of the stadium encompasses 13 acres; its dome rises 273 feet with a diameter of 680 feet, making it the largest fixed-dome structure in the world.
Superdome Fast Facts
Planning began: 1967
Official opening: Aug. 3, 1975
Location: 1500 Sugar Bowl Drive
Capacity for football: 76,468; basketball: 55,675
Record attendance: 75,167, WrestleMania XXX in 2014
Field turf: four different turfs have been used; currently UBU-Intensity Series-S5-M Synthetic Turf
Original construction cost: $134 million ($589 million in 2016 dollars)
Architects: Curtis and Davis Associated; Edward B. Silverstein & Associates; Nolan, Norman & Nolan