Benjamin Button Filming Location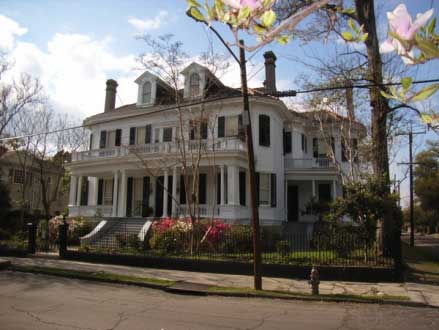 2009's The Curious Case of Benjamin Button was extensively filmed in New Orleans and surrounding areas. Much of the filming took place in the Nolan house at 2707 Coliseum St. in New Orleans. Right around the corner from Commander's Palace restaurant, the 7,800 square-foot mansion has 6 bedrooms, a music room, a library, and a reception hall. Filming took place in virtually every room in the house.
Built in 1832 (and renovated substantially in 1872), the house has been the home for three generations of William T. Nolan II's family. Nolan's daughter, Ashley, plays a doctor in the movie.
The historic property recently went up for auction--with a $2.85 million starting price tag!
The Curious Case of Benjamin Button won three Oscars at the 2009 Academy Awards, for Best Achievement in Art Direction, Best Achievement in Makeup, and Best Achievement in Visual Effects. The film generated warm receptions from both critics and general audiences, taking in over 300 million dollars worldwide.