Hogs for the Cause will be in City Park this Saturday, March 26th with fantastic food, New Orleans bands and competitions to raise money to fight pediatric cancer.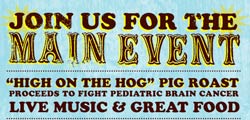 What better way to raise money for a non-profit organization than having a good ol' fashioned cook-off? New Orleans is a city in love with fantastic food, and attendees will have the chance to vote with their tax-deductible donations to name the best cooking team this Saturday, March 26th at Hogs for the Cause. Each team in the Cookoff provides food to attendees and accepts donations on behalf of the event coordinator. 50-75 teams will compete in a variety of categories, both for specific types of food and for general categories like most funds raised and best presentation. Registration for teams has already been shut down due to the overwhelming response.

Hogs for the Cause is dedicated entirely to providing for families of children being treated for pediatric brain cancer. Whether helping families with medical equipment or treatment or even finances to compensate taking extended time off work to be with the affected child, Hogs for the Cause wants to help. This year, the event has set a fund-raising goal of $100,000 with all proceeds going toward the fight against pediatric brain cancer.

Location: City Park at the rugby fields across from City Bark
Date: Saturday, March 26th
Cost: Tickets cost $10 in advance and $15 at the gate. Be prepared to make donations to teams in the competition.

Saturday is not all about eating. Several Louisiana bands will come out to support the cause, including,


Mississippi Rail Company


Amanda Shaw and the Cute Guys


Honey Island Swamp Band


Soul Rebels Brass Band


Anders Osborne with Big Chief Boudreaux


The Radiators (in possibly one of the last times to see
The Radiators live)







For more info and to purchase tickets, visit the official site of Hogs for the Cause.

See Amanda Shaw perform on Saturday, March 26th.