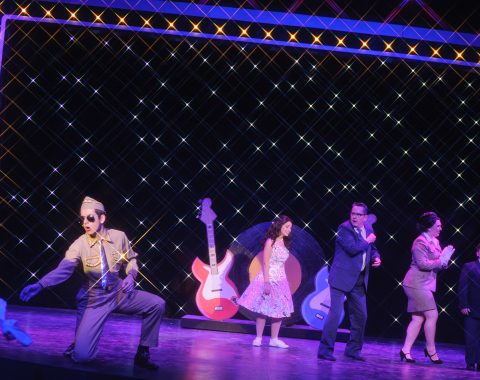 Spring is for Bye Bye Birdie at the Rivertown Theaters.
It's 1958 and rock 'n roll heartthrob Conrad Birdie has been drafted. Before heading off to serve, his songwriter/agent Albert Peterson and Albert's secretary/finance Rosie Alvarez concoct a plan to send Birdie to Sweet Apple, Ohio. Their motive? One last hit with the broadcast of Albert's song "One Last Kiss" on "The Ed Sullivan Show." If things go as planned (of course, they don't), Conrad will plant one on the eager lips of Birdie Fan Club President Kim MacAfee in front of millions of hyperventilating teenage girls all around the world.
If all this is summoning up those famous black and white images of Elvis Presley getting his hair cut, you've figured out the inspiration for what's been called America's first rock musical. While it has only been revived once on Broadway since it won four Tony Awards in 1960, Bye Bye Birdie has always been a popular choice of high school and community theaters everywhere. Last night, it opened to a packed house at Rivertown Theater for the Performing Arts in Kenner. Pretty much the word on everyone's lips upon exiting the theater: "Adorable."
Rivertown really is a great little theater. Last night's performance of the musical (book by Michael Steward, lyrics by Lee Adams and music by Charles Strouse) featured memorable songs, great sets, fun costumes and charming choreography. The Telephone Hour number was a real crowd pleaser, as were songs like "Put on a Happy Face," "One Boy & One Boy," "A Lot of Livin' to Do," and "Kids." And the cast was, well, adorable.
For starters, Bryce Slocumb who played Albert Peterson has an easy charm and charisma you can't manufacture. There were definitely shades of Dick Van Dyke in his dance moves as he goofed his way around the stage, insuring us that "gray skies were going to clear up." Albert's fiancé Rosie Alvarez, played by Abby Botnick, was first-rate as well. She totally convinced us that Rosie wants nothing more than to be married to a Phi Beta Kappa English teacher and can't wait for Albert's client Birdie to fly, fly way. She totally convinced us that Rosiewants nothing more than to be married to a Phi Beta Kappa English teacher and can't wait for Albert's client Birdie to fly, fly way. Albert's mother Mae, however, has other plans. Mrs. Peterson, played by Big Easy Award winner Helen Blanke, put in an amusing performance, despite the fact that many of her character's comments weren't exactly PC by today's standards. It will be fun to see how Jennifer Lopez handles Mae when she takes on the Rosie role soon in NBC's production of the musical.
Trevor Brown was hilarious sliding and ever-so-subtly gyrating around as Conrad Birdie (the name is a playoff on "Conway Twitty" who was a rocker before he moved on to country). Just out of Archbishop Rummel High School, Trevor has a sparkling, gold lame-future ahead of him. And Loyola University freshman Haley Nicole Taylor who played Kim MacAfee was cute as a button with a sweet voice to boot. Don't come expecting an imitation of Ann-Margret's sex kitten interpretation of the role. Haley Nicole played it straight-up apple pie and it worked.
The audience thoroughly enjoyed the performance of Kyle Daigrepont who played Kim's father Harry MacAfee – especially when he sang about "Kids! With their awful clothes and their rock an' roll!" But the real surprise of the night came from Kehoe-France 5th grader Dylan Rhoton who played Kim's little brother Randolph. When he opened his mouth to sing, the words came out sweet and clear, and when he did a little shoulder shimmy in one of the numbers, the audience shimmied along with him. It's going to be fun to see what he does next.
Bye Bye Birdie will be playing at Rivertown through May 21. Last night, Producer/Director Gary Rucker announced that, at the end of the month, the cast will don zombie attire and do a 3-night run of Die Die Birdie. Only in New Orleans. For tickets and more information, click here.