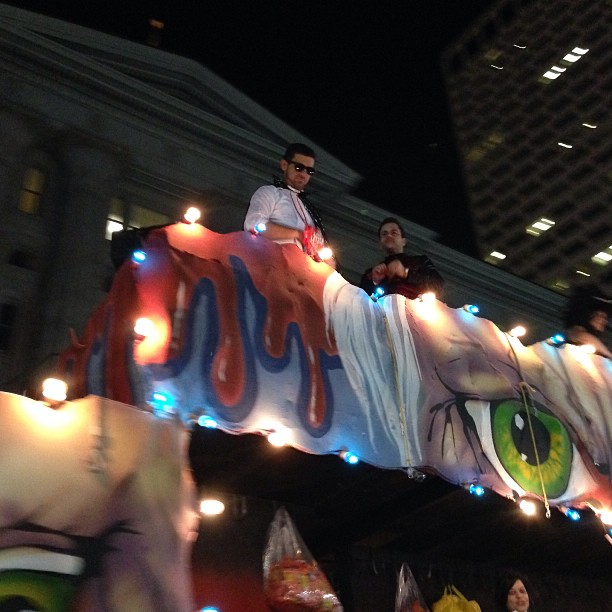 If you missed Krewe of Boo's parade Saturday night, then you really missed out on a lot.
We caught the parade as it rounded Canal Street. Hundreds of people lined the streets, and this year's throws were pretty great. Besides the standard candy (which the kids loved), we also caught some PJ's coffee, plastic cups, beer koozies, and even some small, locally made art. My favorite catch was a beautifully painted bottle cork.
And yes, most parades have floats, marching bands and the parade route norms, but this is the only parade where the crowd really gets to be a part of the experience since almost everyone watching is dressed in costume. From Elvis impersonators to Orange in the New Black character costumes, the crowd really made it that much more fun.
Mardi Gras World was the perfect setting for the Krewe of Boo's After Party SpookFest. The sounds of Flow Tribe and the Pimps of Joytown (a great band who came all the way from Brooklyn) energized the audience. The floats surrounding the dance floor were amazing, and it was awesome getting to browse the floats that were in progress. Getting a behind-the-scenes look at the floats was probably one of our favorite things about the party. Mardi Gras World has an incredible inventory.
There were also many local food vendors around, even though their location wasn't very well marked. Nevertheless, we still found and enjoyed them.
If you have the chance to get a VIP bracelet for next year's party – do it. The designated seating area and shorter drink lines are worth putting the extra cash down up front. Less waiting and knowing you and your friends have a place to sit when needed is a life saver.
So basically, Krewe of Boo just makes Halloween better. We would have had a good time dressing up in our costumes and hitting Bourbon Street, but this was so much more fun.
For some more photos of the events and a couple of videos from the parade, check out the Experience New Orleans Facebook page, where we'll be uploading a Krewe of Boo album!