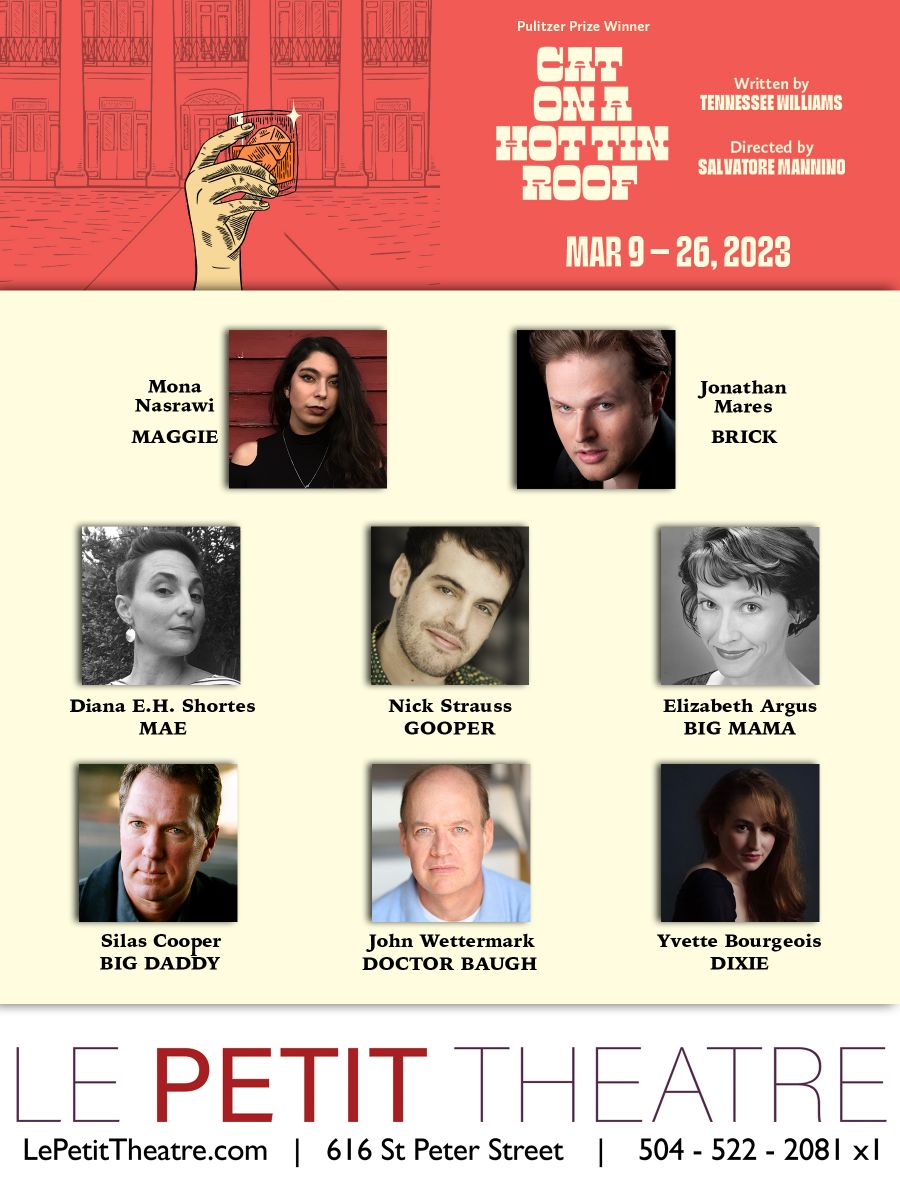 New Orleans, LA (February 23, 2023) — Le Petit Théâtre du Vieux Carré brings the Pulitzer Prize-winning play Cat on a Hot Tin Roof to the stage March 9 - 26, 2023, with Tennessee Wiliiams' original third act.
Set on the Pollitt's' plantation home in the Mississippi Delta, this iconic story is told in three acts with no lapse in time between them. Maggie (Mona Nasrawi), a young ambitious in-law, is determined to solidify her role in the family, but her husband Brick (Jonathan Mares) is preoccupied with past longing.
Director Salvatore Mannino says, "This production reanalyzes the impact of Williams' text that helped shape the appearance of the American South…and reveals the truth behind the character's desires. Using the youngest generation of the Pollitt family as our conduit for the story, we witness the effect these characters have on their family for generations to come. Our team is excited to share this new perspective on the play with our community, and engage in the discourse it prompts."
Cat on a Hot Tin Roof stars Mona Nasrawi, returning to the Le Petit stage, as Maggie and Jonathan Mares in his Le Petit debut as Brick. Diana E.H. Shortes (Mae), Nick Strauss (Gooper), Elizabeth Argus (Big Mama), Silas Cooper (Big Daddy), [TBD] (Reverend Tooker), John Wettermark (Doctor Baugh), and Yvette Bourgeois (Dixie) round out the stellar cast.
The creative team includes Salvatore Mannino (director), Joey Moro (scenic/lighting design), Bridget Boyle (costume design), Tyler Kieffer (sound design), and Laurin Hart (wig/hair design).
PREVIEW / PRESS: March 9, 10, and 11 at 7:30 PM; Sunday, March 12 at 3:00 PM.
OPENING NIGHT: Friday, March 10 at 7:30 PM.
PERFORMANCE SCHEDULE: March 9 - 26, 2023 | Thursdays - Saturdays at 7:30 PM; 3:00 PM Sunday afternoons. Student matinee performance Thursday, March 16, at 10:00 AM. Final Saturday, March 25 matinee performance at 3:00 PM.
WHERE: LE PETIT THEATRE - 616 St. Peter St. New Orleans LA 70116 | 504.522.2081
BOX OFFICE: 504.522.2081 x 1 or lepetittheatre.com
TICKETS: Single tickets range from $35-$65. $15 student tickets are available for every performance. Groups of 10 or more may contact the box office to receive a 20% discount. Tickets for the preview performance on Thursday, March 9 are at a special discounted $25 rate. 3-Show subscription packages, including Cat on a Hot Tin Roof, are available starting at $75. For student matinee tickets for your class, contact Fernando Rivera at frivera@lepetittheatre.com or 504.522.2081 x1.