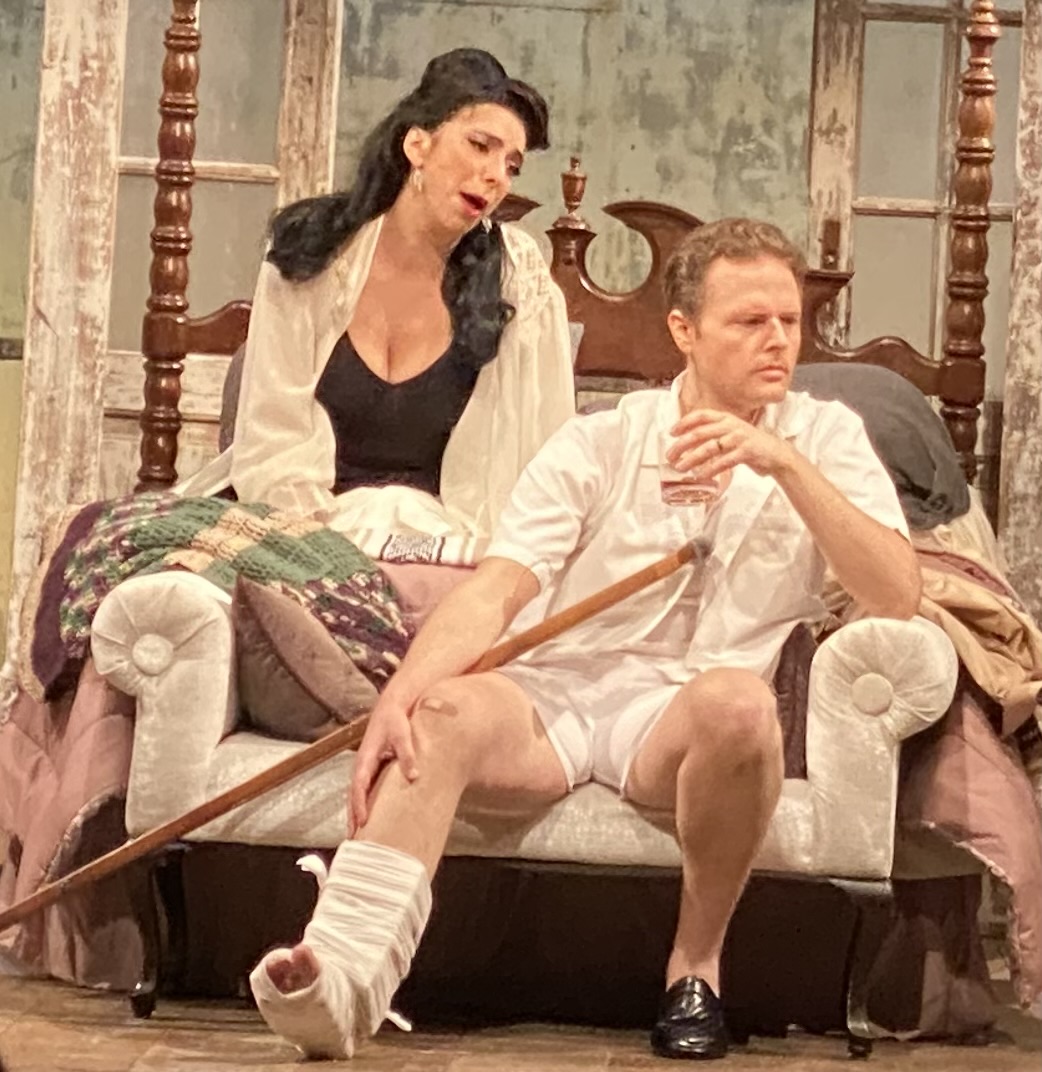 When the Hollywood version of Cat on a Hot Tin Roof came out, playwright Tennessee Williams told people waiting in line to see the film, "This movie will set the industry back 50 years. Go home!"
One reason he was upset was because, in the screen version, they revised the 3rd act, taking out much of Brick's confusion over the death of his friend Skipper and including a reconciliation between Brick and Big Daddy. In other words, they tied it all up with a neat little bow. This month at Le Petit Theatre, you can see the work as the Pulitzer Prize-winning playwright intended, with its 3rd act intact. The result is fascinating and, to tell the truth, disturbing. The gallery doors are thrown wide open. Drop-dead gorgeous Elizabeth Taylor and Paul Newman are replaced by a lot of family dysfunction which is anything but attractive. Brick's pain is explained and we suffer with him.
When asked what he thought Tennessee Williams would think of their production, New Orleans-born Director Salvatore Mannino said, "I think he would be happy and excited and hopefully proud. In the year 2023, he would be excited by the risks we're taking by removing the mask — exposing the ugliness of this world."
One of the key themes of the play is mendacity — "lies and liars." By removing much of the homosexual theme from the play, Hollywood was essentially lying by omission, making Brick's confusion about his feelings for his friend Skipper confusing to the audience. Still, for lovers of the film, which was nominated for six Academy Awards, the production as originally written is somewhat of a shocker. Here we see an angrier version of Maggie the Cat. And, although brilliantly delivered by Mona Nasrawi, Maggie's long, catty opening monologue leaves you feeling unsympathetic. You question whether Maggie loves Brick at all or is just after her share of Big Daddy's money. Could this be what Williams originally intended? It seems so.
The New Orleans cast does an amazing job with this complex play and there's something exciting about seeing this production in a city that inspired so much of Williams' work. Big Daddy, who is dying of cancer, has just come back from Ochsner, where he received, according to daughter-in-law Mae, the best care "bar none." It's fun to get a glimpse of the 1950's South.
Director Sal Mannino said, "There's an energy in this cast, knowing that we're working in close proximity to where Tennessee Williams once lived, walking the streets he once wandered. It feels really special."
Mannino's right. This production does feel special but it, like Le Petit Theatre which is said to be haunted, will haunt you, too. You'll be thinking about it for a long time to come. Leave your "no-neck monsters" at home. This one is for adults.
###
Cat on a Hot Tin Roof stars Mona Nasrawi, returning to the Le Petit stage, as Maggie and Jonathan Mares in his Le Petit debut as Brick. Diana E.H. Shortes (Mae), Nick Strauss (Gooper), Elizabeth Argus (Big Mama), Silas Cooper (Big Daddy), [TBD] (Reverend Tooker), John Wettermark (Doctor Baugh), and Yvette Bourgeois (Dixie) round out the stellar cast. The creative team includes Salvatore Mannino (director), Joey Moro (scenic/lighting design), Bridget Boyle (costume design), Tyler Kieffer (sound design), and Laurin Hart (wig/hair design).
PERFORMANCE SCHEDULE: March 9 - 26, 2023 | Thursdays - Saturdays at 7:30 PM; 3:00 PM Sunday afternoons. Student matinee performance Thursday, March 16, at 10:00 AM. Final Saturday, March 25 matinee performance at 3:00 PM.
WHERE: LE PETIT THEATRE - 616 St. Peter St. New Orleans LA 70116 | 504.522.2081
BOX OFFICE: 504.522.2081 x 1 or lepetittheatre.com
TICKETS: Single tickets range from $35-$65. $15 student tickets are available for every performance. Groups of 10 or more may contact the box office to receive a 20% discount. Tickets for the preview performance on Thursday, March 9 are at a special discounted $25 rate. 3-Show subscription packages, including Cat on a Hot Tin Roof, are available starting at $75. For student matinee tickets for your class, contact Fernando Rivera at frivera@lepetittheatre.com or 504.522.2081 x1.