If you missed the New Orleans Comic Con, then you missed out on one heck of a sci-fi, geeky good time.
Stars from The Boondock Saints, Star Trek: The Next Generation, Buffy, Hercules, the WWE, and, of course, the comic book industry itself were all there, and they commanded some intense lines. Seriously, the lines for Teenage Mutant Ninja Turles' co-creator Kevin Eastman stretched all the way through the middle of the floor. Stan Lee had a booth with the TV stars, and people were camped in his line until the living legend returned from a speaking engagement. TV star Eliza Dushku (Buffy and Dollhouse) and TV / movie star Norman Reedus (Boondock Saints and The Walking Dead) probably had the longest lines for non-comic book creators.
The real craziness of Comic Con doesn't happen behind the booths, though. You just have to take a look around at the crowd for the full experience. Fans dressed as their favorite superheroes, Star Wars characters, anime characters, and some fans came dressed in entirely their own creations. Entire families were dressed with themes in mind, like the Spider-Man family who were kind enough to pose with me. The dad was Spidey's arch-enemy Venom, and the kids were Spider-Man and Spider-Woman. Mom, not pictured, dressed as the Black Cat. Another family went with a general Marvel Comics' character set. As I was getting my picture with the Spidey family, I heard several fans passing by who said things like, "I wish my family dressed up like that!"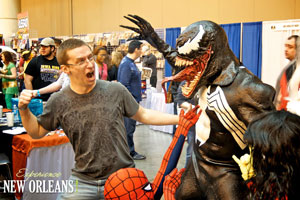 A little bit later on, I was walking through the aisles and heard a round of applause from the middle of the convention. Drifting closer, I saw a couple in the middle of a circle of comic book fans. The pair was each dressed in a Star Wars costume, and the woman was now wearing a new engagement ring! They made this year's comic book convention a part of the story that they'll be telling people for years to come. (Wish I could go to that wedding!)
Lest I forget to mention it, the comic books and the deals on tons of sci-fi and fantasy merchandise were really great, but the stories of the people I had the chance to see will be the part of this year's convention that sticks out in my memory. I'll be heading back next year, and I hope to see you there!
Be sure to check out our entire 2012 New Orleans Comic Con Photo Gallery!