by Michael Roberts

Oh man, I can't wait for what will definitely be one of my favorite New Orleans events in 2011.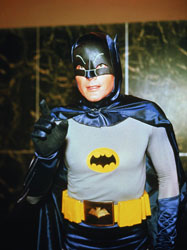 The Wizard World New Orleans Comic Convention on Saturday, January 29th and Sunday the 30th, will feature legendary TV actors Adam West and Burt Ward from the Batman series, Billy Dee Williams and Ray Park from the Star Wars films, Ernie Hudson from Ghostbusters, James Marsters, Julie Benz, Nicholas Brendon, and Kelly Donovan from Buffy the Vampire Slayer, Aaron Douglas from Battlestar Galactica, Walter Koening from Star Trek, and even Peter Tork from the pop-icon Monkees. To add to all of that, comic book professionals will also be there including artists Joe Madureira, Phil Jimenez, Mike Grell, Rob Liefeld, David Mack, Rob Guillory, Tony Harris, Kody Chamberlain, writers Victor Gishchler and John Layman, and many, many more.

Please know that I am in geek heaven right now.

Growing up, I was (and still am) a huge fan of artist Joe Madureira, artist of my favorite series at the time, the X-Men. Now that I've grown and still not shed my geeky ways, I've been an avid reader of Louisiana natives Kody Chamberlain and Rob Guillory.

Kody Chamberlain has a new issue out this week of his New Orleans-based series Sweets. This isn't a capes and heroes kind of book. This is a TV crime show brought to the comic book format, featuring a serial killer who eats pralines at the sight of the murders.

Artist Rob Guillory is the co-creator of a series called Chew, which features a law man who has the ability to know the origin of anything that he eats. When he begins to use this ability to solve crimes, things get wacky, action-packed and a little weird. This book has already been collected in three paperback collections and is available at comic book stores and major bookstores.


I'm also looking forward to meeting an actor from my favorite science fiction television show. Aaron Douglas proved himself to be a fantastic actor in Battlestar Galactica, and he infused his character with great depth and emotion.

You can bet I'm taking my comic books to get them signed on Saturday and Sunday, the 29th and 30th of January at the Wizard World New Orleans Comic Convention at the Ernest N. Morial Convention Center.

What: 2011 Wizard World New Orleans Comic Con, part of North America's largest pop-culture touring expo, Jan. 29-30 at the New Orleans Ernest N. Morial Convention Center. Thousands of fans will be on hand to celebrate the best in pop culture: movies, comics, toys, video gaming, television, gaming, original art, collectibles, contests and more.

Who: James Marsters, Julie Benz, Louis Gossett Jr., Ray Park, Adam West, Burt Ward, Billy Dee Williams, Peter Tork and Aaron Douglas are among the celebrities and industry professionals scheduled to attend

When: Saturday, Jan. 29, 10 a.m. - 7 p.m.
Sunday, Jan. 30, 10 a.m. - 5 p.m.

Where:
New Orleans Ernest N. Morial Convention Center
900 Convention Center Blvd.
New Orleans, LA 70130
504-582-3000

Info: Tickets start at $25. Visit www.WizardWorld.com for more info.

New Orleans Comic Con - The Pop-Culture Capital of the World!