The Renaissance Festival runs from November 5 through December 11 in Hammond, Louisiana.
One of the great New Orleans events this season kicks off this weekend as the 2011 Renaissance Festival is finally upon us. The faire will be highlighted by a theme park-like setup that celebrates European Renaissance in Hammond, LA through teaching, shopping and entertainment. Over 50 shows will highlight month long festival with themes of drama, action and comedy.
The educational portion of the faire is rooted in different historic figures such as nobles, merchants, knights and Queens (Elizabeth I). The festival will provide an excellent opportunity for children and teenagers to have a hands-on experience that is both enjoyable and educational. Being around historic exhibits and shows are a great way to educate children while still bringing some excitement at the same time.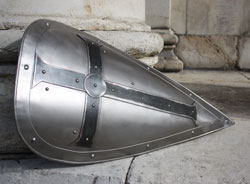 The festival will take visitors back in time to a much different place. Instead of the modern day New Orleans apartments and homes, the festival will be lined with houses and vendors that are modeled heavily after the times of the European Renaissance. On top of the full dedication to showing off what a Renaissance style neighborhood would mirror, the event will include over 300 people involved in the cast and crew for the festival, helping to provide a suitable tribute.
The festival can include a lot of walking, thus good shoes are strongly recommended. Even though the cast and crew will be dressing the part, attendees of the Louisiana Renaissance Festival are not required to wear any type of costumes. Normal attire will allow you to enjoy the festivities just as much as dressing up would – though era-appropriate costumes are always welcome!
One of the great parts of the Louisiana Renaissance Festival is the wide variety of shopping and retail opportunities on hand. There will be over 100 merchants selling all different kinds of products throughout the festival's grounds. Some of the common items for sale include games, jewelry, pottery, glass, art, as well as a number of different kinds of original crafts.
The festival will also be highlighted by a number of different events and themes throughout the month-long celebration. This includes weddings, parties and weekly themes during the month of November and early December. One of the popular events of the festival is the "Queen's Tea," where an afternoon tea gathering celebrates "Queen Elizabeth" in a limited seating attraction. This one-hour-long occasion features multiple courses of food, along with a special gift for every attendee. This attraction is only $25 and a spot can be reserved in advance to ensure a chance to enjoy some great food and tea.
The 2011 Louisiana Renaissance Festival will be a great occasion for the whole family, particularly because of the excellent mix of entertainment, food, shopping and informational events. Taking place from November 5 through December 11, the festival will be a great weekend activity for visitors from all over the state.
Article written by Melinda Carter