The New Orleans Arena hosts three key games in the 2011 NCAA Tournament.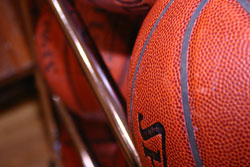 College basketball fans rejoice at this time of year as March Madness officially descends on the nation. Sixty-four college teams begin a tournament that will end with only one school holding the NCAA National Championship trophy.

Televisions will certainly be tuned in to sports channels, and fans in select cities will be able to witness part of the tournament live. This year, the New Orleans Arena has the opportunity to host two of the Sweet 16 games on Thursday, March 24th, and one of the Elite 8 games on Saturday, March 26th. Who knows? You could potentially watch the soon-to-be national champions grace the courts.

Tickets aren't cheap. As of this writing, tickets were going for $94 for a single game and as high as $1200 for all three games. And you can be sure that those prices are going to go up as the games get closer. If you're a diehard fan, you had better purchase those tickets soon!

Good luck to all the teams in this year's tourney. Let the madness ensue!