Come Rock the Boat at a benefit for NOLA Pay It Forward on Wednesday, July 27th at 5 - 8:30 p.m.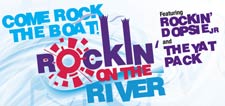 New Orleans and the state of Louisiana have faced difficult times, but instead of feeling down about it, we throw great benefit parties! Join Rockin' Dopsie Jr. and the Yat Pack dockside at the Rockin' on the River party featuring fabulous food by top local restaurants, cocktails, wine and beer available for sale with 100% of proceeds benefitting NOLA Pay It Forward. NOLA Pay It Forward is a fund created by the Mayor's office to raise money for Louisiana Flood Victims.

With food from Acme Oyster House, Antoine's, Pigéon Caterers, Zea's, and more, attendees will be sure to get a great taste of New Orleans dishes.

Don't miss out on Rockin' on the River at the Creole Queen Paddlewheeler at the Port of New Orleans on Wednesday, July 27th, 2011 from 5 - 8:30 p.m. Tickets are $10 in advance and $15 at the door.