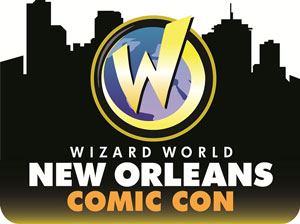 Break out your geek banner and put on your superhero costume. It's time for the New Orleans Comic Con, starting up on November 30th.
So before you box up any geeky Halloween costumes, you might want to keep them around for another month. It's not just superheroes that get the spotlight at Comic Con but rather the entire geek community: science fiction, fantasy, gamers, and comic books. Need some proof? Just take a look at this year's guest list.
Patrick Stewart and the entire lead cast The lead cast (sans Patrick Stewart - he'll be filming at the time of the show) of Star Trek: The Next Generation will be at the show! That's right. Jonathan Frakes (Commander William T. Riker), LeVar Burton (Lt. Commander Geordi La Forge), Michael Dorn (Lieutenant Worf), Marina Sirtis (Counselor Deanna Troi), Brent Spiner (Lt. Commander Data), and Gates McFadden (Dr. Beverly Crusher) - with a special appearance by John de Lancie -- will be on hand for autographs. Superfans of the show have the opportunity to get a TNG VIP ticket costing a cool $900 that includes full access to the stars. Photo ops, autographs, a lithograph and much more!
But the show isn't just about space-farers. Comics legend Stan Lee, "Buffy the Vampire Slayer" star Eliza Dushku, Reservoir Dogs headliner Michael Madsen and WWE® Superstar CM Punk® are all lending their celebrity status to brind in fans.
More than Just Celebrities
Speaking personally, my favorite aspect of the show is the crowd. Yes, you'll find plenty of big-name celebrities at the show, from TV, movies and comics. But New Orleans has really stepped up to embrace the entire geek culture in a way that only a city so intimately familiar with parties and grand costumes can. Show attendees dress up in elaborate garb, with superhero costumes, steampunk renditions of popular sci-fi characters (steampunk Stormtroopers... very trippy), movie characters, and a lot more. I saw a pretty convincing rendition of Captain Jack Sparrow at the last Comic Con, as well as Neytiri from Avatar, and the entire Krewe of Chewbacchus is a blast. At the last show, the Krewe (which also parades in Mardi Gras) took a lap around the convention floor in full costume and with their assortment of vehicles, which included a bicycle that had been converted into an X-Wing from Star Wars.
Really, it's something you need to experience for yourself.
Go ahead and put it on the calendar now. November 30th - December 2nd is the New Orleans Comic Con. It's a fun event for fans of all ages, and you can geek out with me!