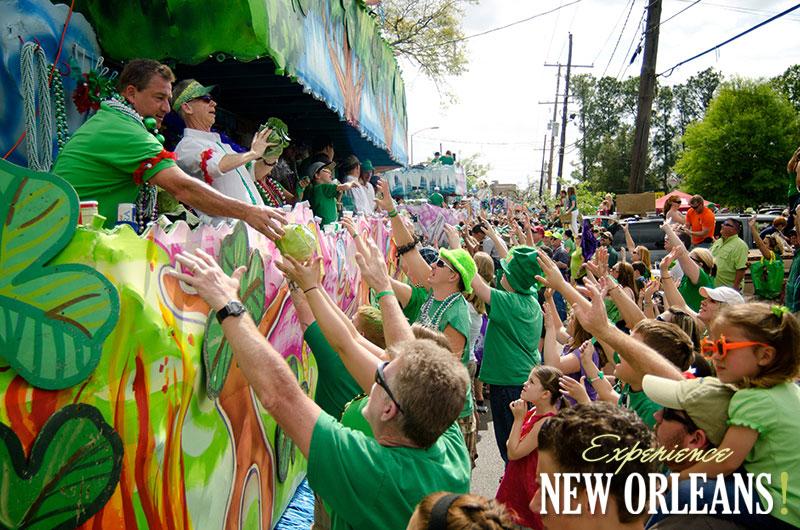 I don't think that I need to tell you that New Orleans is heavily influenced by the French And Spanish, but did you know that the Irish have left their mark on the city too?
As early as the 17th Irish headed to the United States in search of a better life for themselves and their families, many ending up in South Louisiana. In 1830's, the Irish provided the labor to build the New Basin Canal, a shipping canal that connected Lake Pontchartrain with Uptown, New Orleans. Somewhere between 4,000 and 30,000 Irish workers died from yellow fever while building the canal. Many of those that were lucky enough to survive settled in the area south of Magazine, now called the Irish Channel.
This week, the Irish history and influence is celebrated in ways that New Orleans knows best – parades and parties. Of course beads will be thrown, but also keep an eye out for cabbage! Who knows, there may even been some green beer consumed.
Parades
Jim Monaghan's 31st Annual St. Patrick's Day Parade
Friday, March 15, the Jim Monahan's St. Patrick's Day Parade kicks off the celebration. The annual parade travels through the French Quarter, starting and ending Molly's At The Market. The parade starts 6:30 p.m.
Irish Channel Parade
Saturday, March 16, the Irish Channel St. Patrick's Day Club marches through Uptown for the 66th year in a row. The parade starts at 1 p.m.
St. Patrick's Day Parade on Metairie Road
Sunday, March 17, the parades continue in Metairie. There will be floats, marching bands and lots of green cabbage handed out. Parade rolls at noon.
Downtown Irish Club Parade
End the festive weekend with the Downtown Irish Club Parade that marches through the old Ninth Ward to the French Quarter. Parade begins at 6 p.m. and makes a few pit stops on the way to the Quarter.
For all of the details about the parades, including parade routes, make sure to visit our sister site, St. Patrick's Day New Orleans.
Block Parties
Parasol's Block Party
Thursday, Saturday and Sunday, you can party at Parasol's from 10 a.m. to 8 p.m. This Irish bar promises lots of music and green beer.
2533 Constance St New Orleans, LA 70130
Tracey's St. Paddy's Day Party
The same three days you can walk down a couple of blocks to Magazine Street and join in festivities at Tracy's. They start the excitement at 11 a.m. and keep the party going until it's time to go home.
2604 Magazine St, New Orleans, LA 70130
Sláinte!