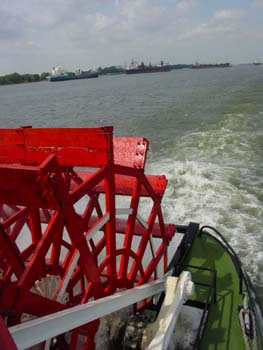 Good news for jazz enthusiasts – New Orleans is about to be home to yet another jazz festival. Except this one floats.
Many great jazz musicians, including Louis Armstrong and Fate Marable, got their start playing on riverboats traveling from New Orleans to cities like St. Louis and Memphis. To celebrate that history and the cultural significance of jazz on the Mississippi River, the New Orleans Steamboat Company announced its inaugural Steamboat Stomp traditional jazz festival.
"If it were not for the jazz entertainment aboard steamboats coming from New Orleans, jazz music may never have discovered by the rest of the nation," said Adrienne Thomas, director of sales and marketing for the Steamboat Natchez. "The Steamboat Stomp is a time to appreciate our jazz roots with great local music and recognize the importance of riverboat culture in bringing jazz music to the world."
The festival will kick off Friday, Oct. 11 with a charted cruise featuring two live-music stages. The steamboat's staple New Orleans style food will be served, along with local beverages. Saturday's activities will be incorporated in the two regularly schedule day-time cruises, followed by a concert reception at the Bourbon Orleans that evening. The event will wrap up on Sunday with a traditional gospel jazz brunch cruise.
Participants can expect performances by Duke Heitger and the Steamboat Stompers, Banu Gibson, Dukes of Dixieland, Yerba Buena Stompers, Solid Harmony, Tim Laughlin, Butch Thompson and Solid Harmony.
Event registration is now open, with weekend packages priced at $200.