This week, we got to witness an interesting experiment in the American theater firsthand – two versions of Neil Simon's The Odd Couple – one featuring male lead characters (Oscar Madison and Felix Unger) and the other female (Olive Madison and Florence Unger). Both scripts about America's most famous mismatched roommates were written by Neil Simon, directed by New Orleans' own Ricky Graham and feature the same actors in both versions. From now through November 19, you can check them out at the Rivertown Theaters in Kenner.
Like the movie and TV shows based on the play, you can expect Simon one-liners, slapstick comedy and characters you can't help but like (but would never want to live with). It's great fun to see the same casts switch places and to witness the audience's reaction to many of the same lines delivered first by one sex, then by the other. You can pick and choose the version you want to see or experience both versions for just $20 more.
A Night with the Guys: Oscar and Felix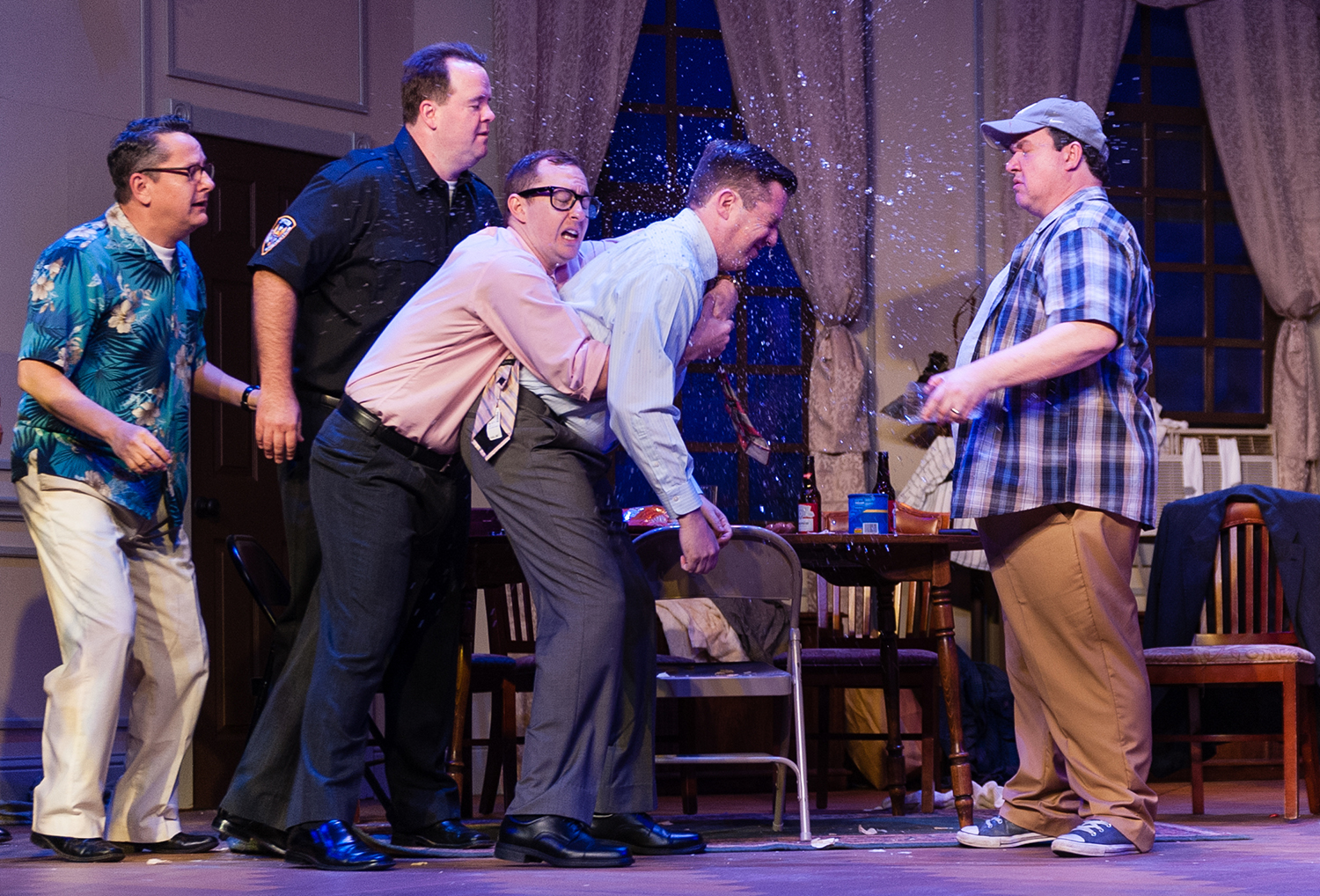 The male version of Rivertown's The Odd Couple has a wonderful cast but they're following in big shoes. Today's audiences know Walter Matthau and Jack Klugman so well as Oscar, and Jack Lemmon and Tony Randall so well as Felix, that it's hard not to make comparisons. We're happy to report that actors Sean Patterson (Oscar) and Gary Rucker (Felix) were up to the task and charmed us with their own takes on these beloved characters. While we would have gone over the top and put Felix in a frilly apron instead of tucking a dishtowel into his waist, we found the performance a lot of fun. The audience laughed out-loud – some guffawed – in all the right places. No laugh track was necessary for this version of The Odd Couple.
A Night with the Girls: Olive and Florence
In 1985, Neil Simon revised The Odd Couple for a female cast. Instead of playing poker, the women play Trivial Pursuit. The Female Odd Couple ran for 295 performances on Broadway with Sally Struthers and Rita Moreno as Florence and Olive, but it didn't receive the same raves as the orginal male version. If Simon's mission was to prove that gender has nothing to do with being a bad roommate or a great friend, he accomplished it. Interesting? Yes. Delightfully acted? Yes.
Jessie Terrebonne who stars as Florence plays the part as it was intended – broadly and over the top. When she honks like a moose to clear her ears, it's hilarious. But when she's angry with her roommate Olive (Cammie West) for coming home late and ruining her dinner, we're on her side.
Those Sexy Pigeon Sisters and Constazuela Brothers
In the male version, the women in the roles of Olive and Florence play the very English and very giggly Pigeon sisters who live upstairs. In the female version, the men who star as Oscar and Felix play the Costazuela brothers from Spain. In both versions, these scenes were among the best in the play. Sean Patterson and Gary Rucker were hilarious as Manolo and Jesus Costazuela. And it was a joy watching Cammie West and Jessie Terrebonne as "the coo-coo" Pigeon sisters, Gwendolyn and Cecily. Plus, here's a bit of backstage trivia: Sean Patterson and and Cammie West are husband and wife in real life.
As far as supporting roles go, Oscar and Felix's poker playing pals and Olive and Florence's Trivial Pursuit buddies turned in strong performances. But if this were Broadway, we would have to give the Tony for best supporting character in a play to the swivel chair that Felix and Florence are continuously adjusting throughout to face at the perfect angle.
So Should You Go to Both Performances?
Absolutely! Neil Simon is the master of the one-liner and, for the most part, his dialogue holds up decades later. (We love when Oscar complains to Felix, "I hate little notes on my pillow. Like this morning. 'We're all out of cornflakes. F.U.' It took me three hours to figure out that 'F.U.' was Felix Unger.") Plus, we are constantly amazed by the talent in this city. If you've always been a fan of Neil Simon, you'll love both. To reserve your combo tickets, call 504-461-9475.