For some New Orleanians, visiting the West Bank is like crossing the Atlantic. It's a whole different world, especially in the historic community of Algiers, which is almost as old as New Orleans' French Quarter! Here's a bit of info on an often-overlooked area of New Orleans.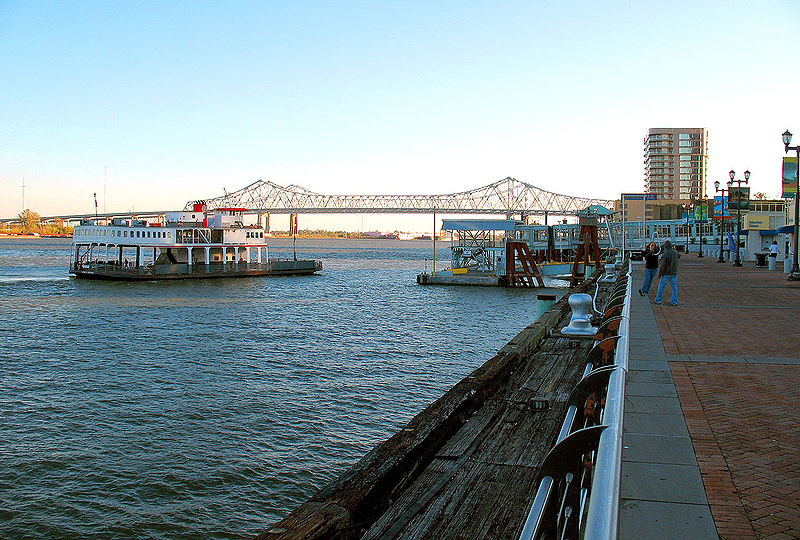 Originally founded in 1719 as a slaughterhouse location and powder storage site, Algiers is said to get its name from its proximity to New Orleans, comparable to France's proximity to Algeria. Just off the Point, the Mississippi reaches its deepest, flowing almost 200 feet to the bottom. In 1827, Algiers connected with the French Quarter directly across the river by way of the Canal Street Ferry, now the Algiers Ferry. In the century to follow, Algiers grew to be a major shipbuilding and railroad center, known for its ability to repair and replace almost any type of locomotive part or ship mechanism. The city suffered a blow during the Civil War, when Union troops destroyed many ships and other property, and again in 1895, when a fire destroyed a huge number of Algiers homes and buildings.
Algiers Point began to distinguish itself from Algiers proper in the 1970s; much of the Point's picturesque gingerbread-house architecture dates from the post-1985 fire rebuilding, while Algiers sports more post-World War II buildings. The Point is a National Historic District, and several of New Orleans' famous musicians hail from here, including jazzmen Jimmy Palao (who may have coined the word "jazz"!), Emmett Hardy, and Clarence "Frogman" Henry. Algiers sustained some wind damage during Katrina, but was spared flooding.
Celebrate the vibrant neighborhood of Algiers Point this summer at Wednesdays at the Point, an eight-week Wednesday concert series at the Algiers Ferry Landing! Food, music, a Kids Zone with face painting and kid-friendly eats, and a tight-knit sense of community make up this weekly treat sponsored by the Algiers Economic Development Foundation.
Wednesdays at the Point runs from 6-9 pm. This Wednesday, it's Latin Night with Son Como Son and Ritmo Calypso on the bill, so come prepared to dance. See you at the Point!