Mardi Gras' premier website has been re-designed to serve you better!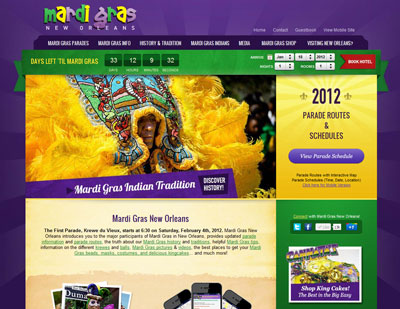 Have you seen the new MardiGrasNewOrleans.com?
The premier site for Mardi Gras in New Orleans has been redesigned from the ground up. You can still find the same great content for history and shopping, and the schedule and map system has been recreated to help you keep up with all of the krewes.
Use the site on the go with our mobile-friendly version, and get to your parade routes on time!
MardiGrasNewOrleans.com was the first site to broadcast Mardi Gras live on the internet in 1996, and the site has continued to be a mainstay of information ever since.
MardiGrasNewOrleans.com also features extensive information on Mardi Gras Indians. Thanks to the HBO program Treme, the Indians have gained more exposure in popular culture. Learn about their traditions and watch exclusive videos of their parades.
The parades are coming soon! Be sure that you're ready to enjoy them.