Matt Dow continues his family's legacy with the Riverboat CITY OF NEW ORLEANS.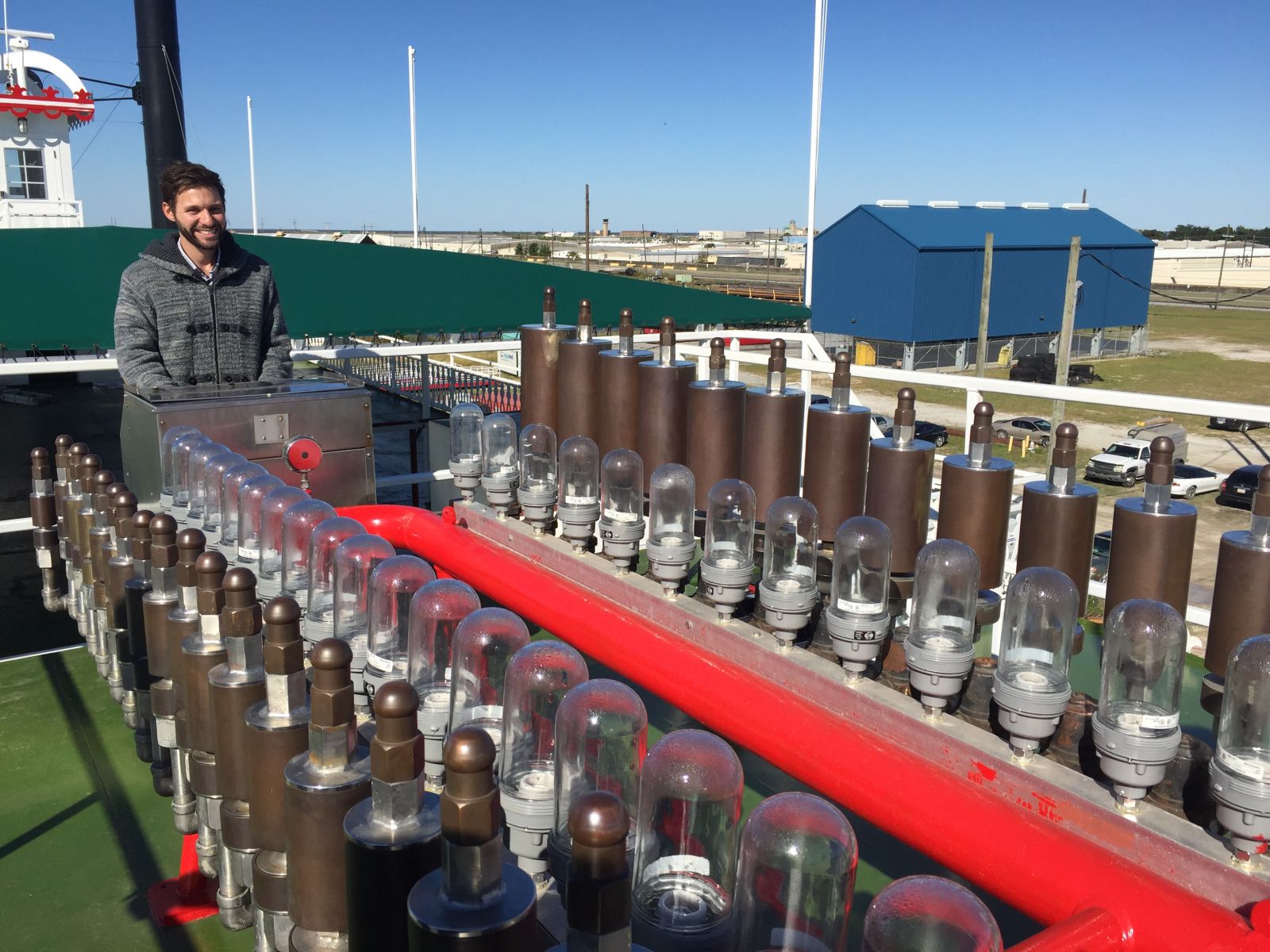 Matthew Dow always knew he belonged on the river. You might say the Mississippi runs through his veins.
In 1945, his grandfather, maritime lawyer Captain Wilbur Dow, purchased the Lake George Steamboat Company in New York. Founded more than 200 years ago in 1817, it is one of the oldest passenger cruise lines in the world (keep in mind the first steamboat, the New Orleans, launched just six years earlier in 1811.)
Then, back in 1972, Wilbur's son (Matthew's father) Bill Dow founded The New Orleans Steamboat Company. Bill moved to New Orleans for a time where he built the Steamboat NATCHEZ, the beloved floating palace you see tied up on Toulouse Street Wharf, across from Jackson Square.
Now, 45 years after the christening of the NATCHEZ, it's Matthew's turn to launch his own legacy. That will happen this spring with the arrival of the Riverboat CITY OF NEW ORLEANS at the Lower Bienville Wharf.
"I grew up hearing whistles, bells and calliopes. I knew this was what I meant to do," Matt said.
Matt was born in New Orleans in 1989 and lived here until he was six, but he spent much of his growing up years in New York. From the age of eight, he worked on the Lake George boats (early employment was his idea) – first in the photo lab, then in the gift shop, then the snack bar. During his summers and holidays, he came down to New Orleans to work on the NATCHEZ as a deckhand – he even stepped in as a calliope player (still does). His favorite song? Old Man River in e flat ("because it has so much meaning"), second only to Do You Know What It Means to Miss New Orleans (because he does know what it means).
"There's just something special about New Orleans," Matt said. "You feel it in your stomach when you get here. I'll be here in this city until the water reclaims it." (Let's hope that never happens.)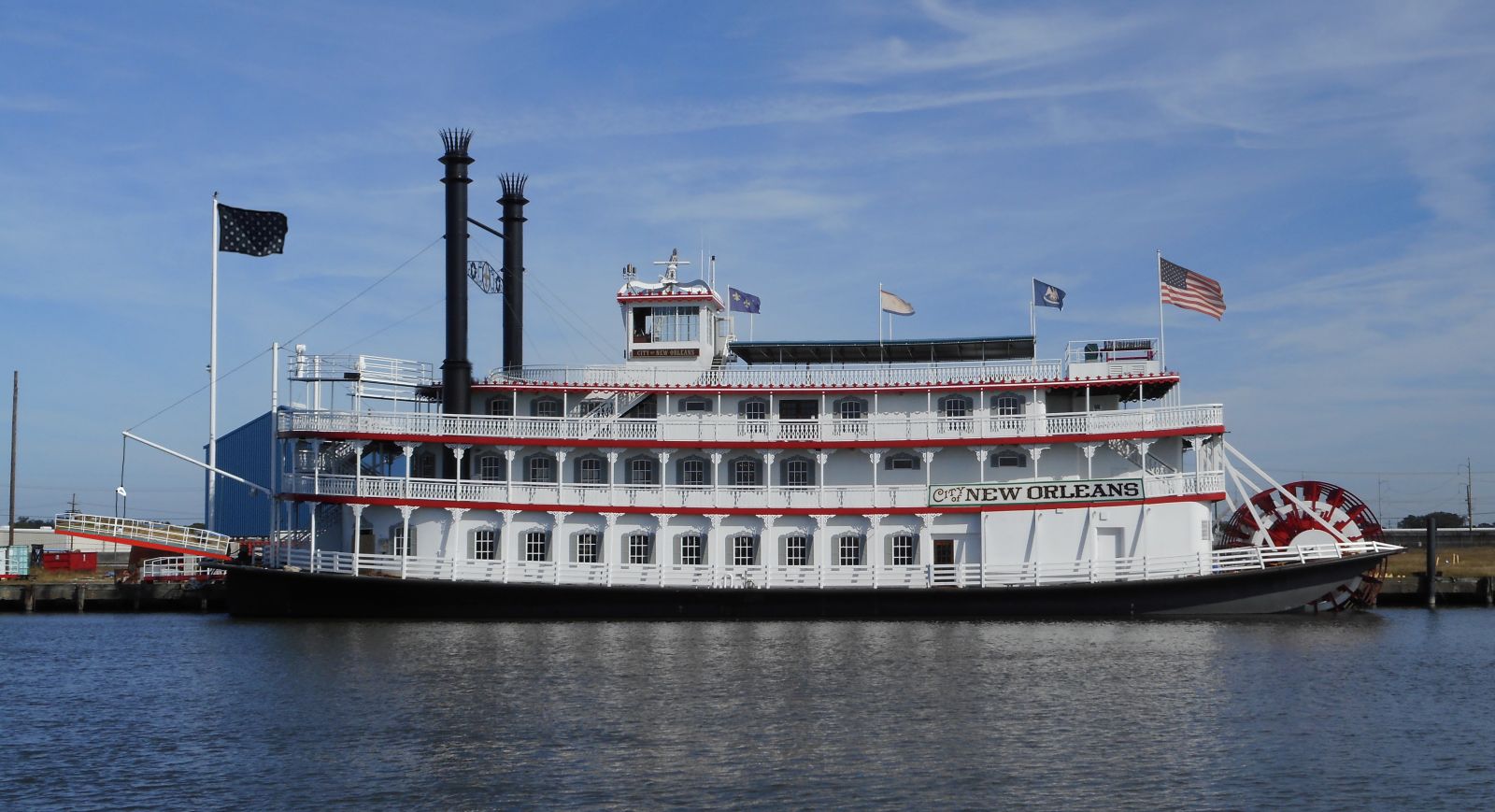 After high school, Matt attended Maine Maritime Academy where he graduated second in his class. After commencement, he worked for the Lake George Steamboat Company, serving in almost every capacity. He completed his Master's License in 2012 and, although he doesn't work as a pilot today, he loves to "get between the sticks."
After Hurricane Katrina in 2005, the demand for passenger boats in New Orleans declined for a time, but by 2016, with the NATCHEZ doing gangbusters, it became clear the time was now to give her a sister. Before Matt knew it, he was packing up his car and heading down to New Orleans to serve as Assistant Marine Operations Manager/Project Manager of the renovation of the Riverboat CITY OF NEW ORLEANS, a former casino boat in Rock Island, Illinois.
According to Matt, "You prove your worth in the Dow family by building a boat. I always felt that New Orleans for me was home. I just knew that I belonged here. I knew it was time to come back."
Matthew had some big shoes to fill. He wasn't just following in the footsteps of his father and grandfather, he was following in the wake of all those who had built boats before him: Robert Fulton, Robert R. Livingston, Nicholas Roosevelt, Charles Brown and many others. At one time they called riverboats floating wedding cakes because they were adorned with an overabundance of gingerbread, opulent furnishings, and sparkling chandeliers. They shone brightly in the sunlight with their tall stacks, fresh white paint and bright red paddlewheels. This boat had to live up to the best of them.
The Riverboat CITY OF NEW ORLEANS was named after the Arlo Guthrie song about the train City of New Orleans, one of Bill Dow's favorites. At one time, the company had plans to build another riverboat with this name. While that project never left dry dock, the dream of the Riverboat CITY OF NEW ORLEANS never died. Speaking of other riverboats, along with the NATCHEZ, the New Orleans Steamboat Company has also operated the COTTON BLOSSOM, the JOHN JAMES AUDUBON, the PRESIDENT, the COMMODORE, the BECKY THATCHER and the AUDUBON EXPRESS here in the city. In its day, the PRESIDENT was one of the premier entertainment venues in the city, offering entertainment like the Rolling Stones, Tina Turner, Joan Jett and others.
According to Matt, audiences today are looking to spend more time inside riverboats being entertained, and the new 1,000-passenger CITY OF NEW ORLEANS was designed to accommodate. It will have twice the dining capacity of the NATCHEZ, including three decks with indoor space for weddings and events (up to 600 people for a sit-down dinner). Each deck will have its own bar, restaurant, elevators and separate AV system that will allow for elaborate corporate presentations and different entertainment on each floor. The new boat will be run with a modern diesel-electric system (steam engines would have taken up too much room), but, never fear, there will be a working paddlewheel!
The sternwheel riverboat will offer daily brunch cruises with an optional stop for a tour of Mardi Gras World. A nightly Dinner Jazz Cruise will be available for private deck parties and whole boat charters. It will be captained by Steve Nicoulin, master of the NATCHEZ since 1995. This is Nicoulin's chance to be the first master of a boat. (He replaced the legendary Doc Hawley on the NATCHEZ.)
"Captain Nicoulin helped put the first coat of paint on the NATCHEZ. He's celebrating his 44th anniversary with the New Orleans Steamboat Company this spring, and we're so proud to have him," Matt said.
What is it that continues to draw people like Matt Dow, Captain Nicoulin and hundreds of thousands of passengers to the river every year?
When asked if millennials are still interested in riverboats, Matt quoted Mark Twain who said, "Someday man will figure out how to go 700 miles per hour, but he'll still only want to go seven."
This spring, be among those racing to the river to go seven miles per hour on the Riverboat CITY OF NEW ORLEANS.
Learn more about the Riverboat CITY OF NEW ORLEANS
Learn more about the Steamboat NATCHEZ