Just when you thought that the Maison Dupuy couldn't get any better–welcome to the Carriage House.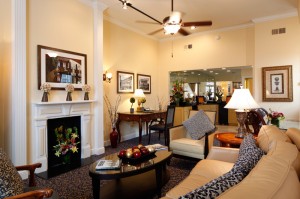 An 1800s cottage tucked behind the hotel, the Maison Dupuy's Carriage House is the ultimate in French Quarter luxury. The first-floor master suite opens onto the private courtyard, with a koi pond and outside dining where you can enjoy your meals prepared to order by hotel chefs. Want a little more privacy? Just go upstairs to another master bedroom, with a king-sized four-poster bed, Jacuzzi and separate walk-in shower.
The Carriage House is 2,000 square feet of pure luxury for the business traveler, pleasure seeker, or luxury-loving local. It's available for short-term stays or long-term leases. Reserve it just for you.