How Our Rues Got Their Names.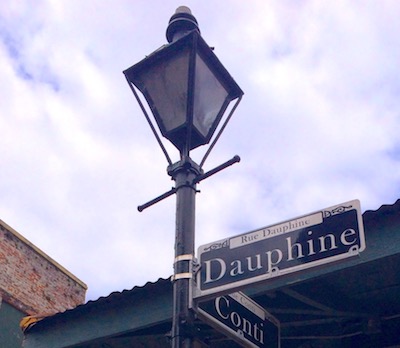 "They told me to take a streetcar named Desire, and then transfer to one called Cemeteries and ride six blocks and get off at – Elysian Fields!" – Blanche Dubois
If you're looking for a street named "Main" in New Orleans, you won't find it. Apparently it never even occurred to those who developed New Orleans to name a street anything so mundane.
In NOLA, our street names are as colorful as our culture. Below is just a handful of "rues" (that's what streets are called in the French Quarter), along with some idea of how they got their names. If you'd like to know the origins of any other streets or feel we were woefully neglectful to leave one out, email us at info@experienceneworleans.com and we'll add them to this list.
Bourbon Street: Named for France's House of Bourbon, not for the amount of whiskey consumed here.
Canal Street: Named for a canal that was, alas, never built.
Claiborne Avenue: Named after William C.C. Claiborne, the first U.S. governor of Louisiana, second great grandfather of designer Liz Claiborne.
Dauphine Street: A Dauphine is the wife of the Dauphin, the heir to the French Royal throne. While the street was probably named for whoever was Dauphine at the time, it has also been written that it was named for the French province of Dauphine. If that's so the street should be pronounced "DauphiNAY" instead of "DauFEEN."
Dumaine Street: Named for an illegitimate son of Louis XIV. (Note:Toulouse Street was named for yet another of his illegitimate sons.)
Frenchmen Street: Named for six French men who were executed after leading an uprising after Louisiana was ceded to Spain.
Napoleon Avenue: Named after the Emperor of France (and the side streets, Marengo and Austerlitz, were named for two of his battles.)
Oretha Castle Hailey Boulevard: Named for a famous American Civil Rights Activist from New Orleans.
St. Charles Avenue: Named after Carlos III of Spain, the reigning monarch when France transferred NOLA to Spain.
Tchoupitoulas Street: Named for an extinct Indian tribe. The name is believed to mean "those who live at the river."
Treme Street: Named for Claude Treme, whose plantation became the neighborhood of Treme.
The Muses Streets
Uptown New Orleans is also home to 9 streets named after the Greek Muses (city planner Barthelemy Lafon designed the streets in 1810 when Ancient Greek style was in vogue). Here's what they mean:
Calliope Street: Named after the Muse of epic poetry.
Clio Street: Named after the Muse of history.
Erato Street: Named after the Muse of love poetry and mimicry.
Euterpe Street: Named after the Muse of tragedy.
Melpomene Street: Named after the Muse of tragedy.
Polyhymnia Street: Named after the Muse of sacred poetry
Terpsichore Street: Named after the Muse of dancing
Thalia Street: Named after the Muse of comedy and playful and idyllic poetry.
Urania Street: Named after the Muse of astronomy.