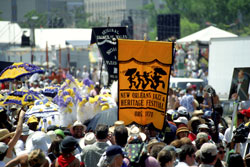 Are you ready for Jazz Fest 2011?!

Next weekend will see some of the biggest names in rock, hip-hop, jazz, r&b, gospel, blues and Cajun music come down to the Crescent City from April 29th to May 8th. The festival will have a little something for every music lover with artists varying from Willie Nelson to John Mellencamp to Grammy Album of the Year winners Arcade Fire.

After more than half a million music fans packed out the French Quarter Festival over the course of four days, New Orleans and the surrounding area have proven their love for great music. The New Orleans Jazz and Heritage Festival will be at the New Orleans Fairgrounds instead of the French Quarter, but you can be sure that you'll need to plan on getting there early get to where you need to be to hear your favorite bands.

Far more than just a series of concerts, the festival also offers marketplaces for crafts as well as well as cultural "villages" and grandstands. These areas celebrate a variety of cultures and their impact on modern Louisiana, including Native American and traditional Cajuns and Creole of Louisiana. This year will also examine cultural influences from the country of Haiti.

Tickets are still available for this massive festival, so get yours before it's too late!