The 2011 Louisiana Cajun-Zydeco Festival is a part of the 2011 Vieux To Do in the French Quarter.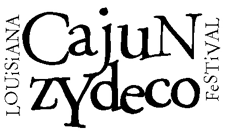 If you're a fan of that good ol' Louisiana sound, then you need to be at the 2011 Louisiana Cajun-Zydeco Festival this Saturday and Sunday, June 11th and 12th at the Old U.S. Mint.

Several of Louisiana's favorites will be there, including Grammy winners BeauSoleil, Terrance Simien and Chubby Carrier. The Festival will have 3 stages available, and musicians will perform from 11 a.m. to 7 p.m. on Saturday and Sunday.

Here is a complete list of the performing musicians:

Saturday


Joe Hall & the La. Cane Cutters


Bruce Daigrepont


Step Rideau & The Zydeco Outlaws


Terrance Simien & The Zydeco Experience


T-Broussard & the Zydeco Steppers


Les Freres Michot


Roddie Romero & the Hub City Allstars


Lost Bayou Ramblers


Creole Zydeco Farmers


Terry & the Zydeco Bad Boyz


Sunpie & the Louisiana Sunspots


Sunday


High Performance


The Bluerunners


Nathan Williams & the Zydeco Cha Chas


Chubby Carrier & the Bayou Swamp Band


Leroy Thomas & the Zydeco Roadrunners


Ray Abshire


Horace Trahan & the Ossun Express


BeauSoleil avec Michael Doucet


Mary Broussard & Sweet La La


The Magnolia Sisters


Big Red & the Zydeco Playmakers


Please note that the Festival does not allow audio or video recording of the performances.
Film Screening
Looking for something other than music - or maybe just a chance to get out of the sun? See the documentary film The Promised Land: A Swamp Pop Journey at La Maison du Musique (508 Frenchmen Street) to see some of the musical heroes of Southwest Louisiana. You can see the film on Saturday and Sunday at 3 p.m.