He's one of New Orleans' favorite sons, famous for his cornet and trumpet improvisation, throaty scat singing, and bold personality--so it's only fitting that we honor Louis Armstrong with a music festival each summer around the time of his birth.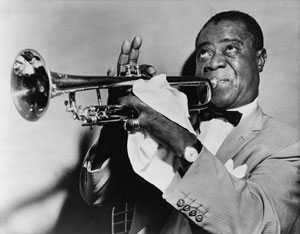 Armstrong grew up poor in uptown New Orleans when that neighborhood was called "Backatown," raised by his mother and her relatives after his father left the family. He made a bit of money singing in a street quartet, but often got into trouble and was sent to the New Orleans Home for Colored Waifs. This was where Satchmo took up the cornet, and where he became the Home's band leader at the age of 13. From here, he would only continue to hone his talents on riverboat bands and brass bands while traveling throughout the country.
Why Satchmo? It's said that his nickname is short for "Satchelmouth," a reference to both the physical size of Armstrong's mouth, which he allegedly used to store earnings from street performances as a child, and his well-known outspokenness. He was also called "Pops," a moniker he made use of when forgetting others' names, and "Dippermouth," for the "Dippermouth Blues".
Armstrong moved to Chicago to play in Joe "King" Oliver's band, and here he learned some of the technical discipline that allowed his style to shine through. He could blow two hundred high Cs in a row, easily defeating upstarts who challenged him to a horn contest. He spent many years in New York, and toured repeatedly throughout the 1930s, '40s and '50s, finding great acclaim in Europe and throughout the United States.
Always a character, Satch signed his letters "Red beans and ricely yours" as an homage to his favorite food and fond memories of growing up in New Orleans. Through his playing, the trumpet became recognized as a solo instrument, and he became an emblem of New Orleans.
Come out and pay your respects to Louis Armstrong this weekend at Satchmo SummerFest in the French Quarter! Running from August 2-5, the fest features lots of local music, Armstrong scholars, talks and, of course, delicious red beans and rice.
See the music schedule and learn more about Satchmo SummerFest at www.fqfi.org!
Fan of Louis Armstrong? Tell us why on Twitter, Facebook or Google+.