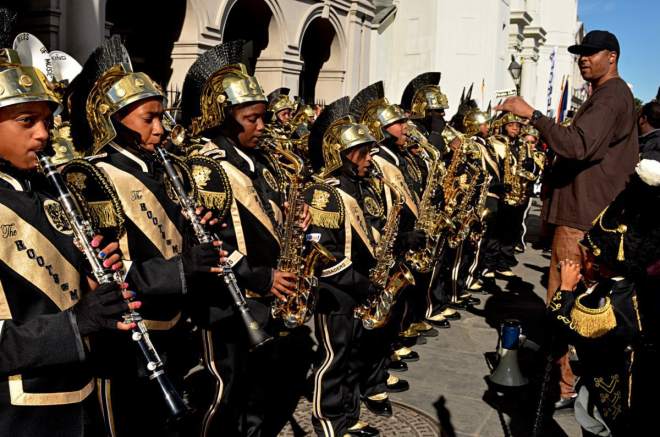 Performers outside of St. Louis Cathedral. Photo courtesy of New Orleans Tourism and Marketing Corp.
For many in New Orleans, the December concert series at the St. Louis Cathedral is a beloved tradition. Every year, a wide range of vocalists and musicians from New Orleans perform in the well-known venue, continuing what is now the oldest continuously active Roman Catholic basilica in North America.
Hundreds of people line the historic cathedral's pews, enjoying musical performances ranging from blues, folk and jazz to opera, gospel and country. It's a unique line-up of entertainment for a unique city. The performers are all locals, or at least have local roots. And since New Orleans is filled with an abnormally large number of talented musicians, you can bet money that whatever concert you choose to attend is going to be great.
All performances begin at 8 p.m. in St. Louis Cathedral, and all are free to the public. Seating is first come first serve, so be sure to get there early if there's a concert you really want to see!
Here's the series line-up for the rest of the month:
- Dec. 9 St. Louis Cathedral Boys Choir (Classical)
- Dec. 10 Audrey Ferguson & Voices of Distinction (Gospel)
- Dec. 11 John Fohl, Theresa Andersson and David Doucet (Blues/Folk/Cajun)
- Dec. 12 Ellis Marsalis (Jazz)
- Dec. 13 McDonogh #35 Senior High School (Gospel)
- Dec. 14 Jim McCormick and Kim Carson (Country/Folk)
- Dec. 16 St. Peter Claver Catholic Church (Gospel)
- Dec. 17 Bill Solley and Kim Prevost (Jazz)
- Dec. 18 Greater Antioch Full Gospel Baptist Choir
- Dec. 20 Christian Unity (Gospel)
- Dec. 21 Orleans Chamber Singers (Classical)
- Dec. 22 Rev. Jermaine Landrum & Abundant Praise Choir (Gospel)
- Dec. 23 Rev. Lois J. Dejean, Gospel Diva (Gospel)