It's officially 2015 and we're getting ready to kick off a whole new year of great events in New Orleans! Mardi Gras is coming up soon, but there are still a lot of great things happening around town before then.
Christmas – Extended!
Christmas isn't quite over in New Orleans. The holiday only comes once a year, so why not extend it a little? For those of you who weren't able to be in town for the end of 2013, you can still see all the beautiful lights, listen to carolers, go to holiday concerts and more all the way up through Jan. 6.
Also, Celebration in the Oaks isn't wrapping up until Jan. 3, so if you haven't seen the hundreds of thousands of lights strung across City Park, along with carnival rides and light shows, you still have a chance.
Carnival season starts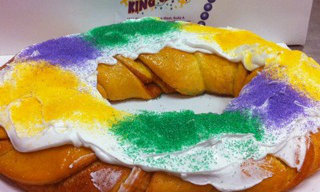 That's right – Carnival season officially starts Jan. 6! Many outsiders to New Orleans often think that Mardi Gras is just one day, but really it's a whole season. City-wide celebrations in New Orleans start on this day, including the Joan of Arc parade. Krewe de Jeanne D'Arc will be parading in the French Quarter (making a loop down Chartres St, starting and ending on Decatur St.) starting at 6 p.m. The parade was conceived and coordinated to honor Joan of Acr's birthday, which happens to fall on Twelfth Night/The Epiphany (Jan. 6).
Joan of Arc and her colorful, free and courageous spirit have served as an inspiration to New Orleanians for decades. Those parading create and purchase their own costumes and favors, and the parade continues to grow in popularity every year. If you're in town on Jan. 6, we recommend making time for this event.
The Phunny Phorty Phellows also "Herald the Arrival of Carinval" that day, but in a different way. Instead of throwing a traditional parade with floats, this krewe loads up on a street car and rides all way the down St. Charles Ave. - from Uptown to Canal Street - and back. The Phellows, who first took to the streets in 1878 (with a long break that lasted from 1898 to the 1980's) is known for its satirical parades. Krewe members often dress in costumes that reflect topical issues.
Jan. 6 also marks the beginning on King Cake season. King cakes are a rich part of New Orleans and Mardi Gras history. Literally hundreds or thousands of King Cakes are consumed at parties, offices, and family dinners around this time every year. To learn more about King Cakes, how they originated, what they're made of, how to order them and more, read this.
Commemoration of the Battle of New Orleans
Did you know that the final major battle of the War of 1812 was fought just outside of New Orleans? It's true, and every year hundreds of people gather at the Commemoration of the Battle of New Orleans to re-live the experience.
Don't worry – even though this event centers on a battle, it's very kid friendly. Learn how to fire a cannon or a musket, or meet one of the Lafiite brothers – Pierre and Jean – who used their extensive knowledge of the Louisiana waterways to help General Andrew Jackson defend the city of New Orleans from the British soldiers.
This year's commemoration will take place Jan. 7- 11. With the exception of the lantern tour, all of the events are free and open to the public.
Find out more about the event details and schedule on our events page.
As always, there are too many events happening in New Orleans to list off of them here. However, these are our favorite, and they're the ones many locals are paying attention to this month. We'll be posting about these events and more on our blog, Facebook and Twitter accounts, so be sure to keep an eye out!