Julia Street becomes one big art opening and outdoor celebration on Saturday, August 6th, 2011 from 6 – 9 p.m.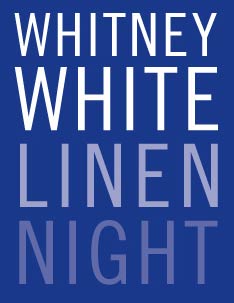 Let me tell you something that you will not find surprising. It's hot outside! Participants in the White Linen Night know it's warm; that's why everyone dresses in white.
Beyond the attire, what can you expect at the White Linen Night on Julia Street? Art, of course. Galleries and studios along Julia Street, Camp Street and St. Charles Street will feature some of New Orleans' finest artists with works in oil on canvas, acrylics, photography, mult-media, glass and jewelry. Look for live music from Alex McMurray's Old-Timey Revue, Ingrid Lucia, and The National WWII Museum's Victory Belles. And what would a party in New Orleans be without fantastic food and drinks? Area restaurants and bars will have their doors open, ready to welcome art enthusiasts and casual party-goers.
Speaking of parties, you can find late night entertainment at the Contemporary Arts Center Celebration and After-Party from 9 - 11 p.m. with cuisine, music, and the following art collections...
The Center Cannot Hold: Paintings and Drawings by Brooke Pickett
Drip: The Music of Water in New Orleans
Patterns and Prototypes: Tina Girouard and Robert Gordy
If you can't wait to get started with the party, check out the White Linen Night Kick-Off Happy Hour on Wednesday, August 3rd from 5-7 p.m. The event features free appetizers and free Rain vodka cocktails (while they last) at the La Cote Brasserie (700 Tchoupitoulas Street in the Renaissance Arts Hotel).
White Linen Night: Art Appreciation Done Right.