Truman Capote once described New Orleans as, "of all secret cities, the most secretive, the most unlike, in reality, what an outsider is permitted to observe." New Orleans' French Quarter may be its most secretive neighborhood. Here, in an area famous for its raucous nightlife and hedonistic abandon, there lives a community in love with the area's timelessness, its beautiful buildings and handcrafted details, its proximity to the river, and its quality as a great, walkable neighborhood of world-class restaurants and vibrant street life.
If you like the pulse of great music coming to you on the coffee-scented air; if you enjoy walking down an ancient street where overhanging balconies spill pools of mysterious shadow; if stepping off a crowded sidewalk into a secret garden makes your heart skip a beat, then you "get" the French Quarter.
Here in one of the oldest communities in the United States, history isn't distant...it isn't even the past. In the French Quarter, where the ravages of Hurricane Katrina touched only lightly, artists, writers and performers are back in business, living side-by-side with successful businessmen, street urchins, restaurateurs and the descendants of French aristocrats. They've created a culture that's unlike anything anywhere else: part Venice, part Venice Beach, part magic, and purely and inimitably the French Quarter.
Bourbon Street
Originally a quiet residential street, post-World War II Bourbon was populated first by jazz clubs, and then by some of the more risqué establishments that have earned it an infamous reputation.
Contrary to a lot of opinion, Bourbon Street is NOT named after the Kentucky whiskey. When the city was founded, it was named after the French Royal Family, the "House of Bourbon", which produced a number of French kings, including Louis XIV, The Sun King.
The Kentucky whiskey, Bourbon, had no connection however, with naming of Bourbon Street. It is named after Bourbon County, Kentucky, which also derives its name from the same royal family.
At any rate, Bourbon Street was a prestigious residential street during the early days of New Orleans. For the past century, particularly since World War II, it has had an entirely different reputation, which is now more closely related to that Kentucky Whiskey. Intermingled here are traditional jazz clubs, strip joints, restaurants, bars of every type, and the ubiquitous souvenir shops.
Bourbon St. during the day is much like any other French Quarter street. With lingering effects from the previous night's partying, it is quiet, with delivery trucks, and bar and restaurant owners, who are busy hosing down the sidewalks. At twilight, however, the lights come on, and Bourbon Street comes alive with crowds of partygoers and the curious. There is a cacophony of music emanating from the various bars and clubs, as barkers try to entice people inside their respective establishments.
During Mardi Gras, however, the street is closed to vehicles for five days.
Pirate's Alley
Pirate Alley (or Pirate's Alley, as many call it) is the subject of much legend and lore, some true, and much false. It is one of the "must see" locations of the French Quarter. Some claim that it was a haven for pirates in days past, while others claimed that slaves were sold at the adjacent St. Anthony's Garden on Royal Street. It is probable that there is little or no truth to either. But, it does make good stories.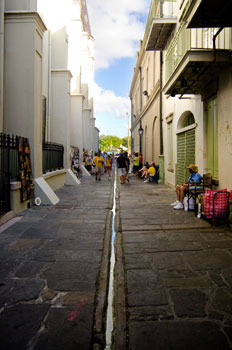 In reality, its official name was Orleans Alley, until the mid 1960's when the city changed it to Pirate Alley. This was to reflect its name of common usage, and to make it easier for tourists to find.
Origin of the Name
Why it was called Pirate Alley is left to conjecture, but there are some facts to consider. Looking down the alley, you will notice that the St. Louis Cathedral is on one side. On the other is the Cabildo (the Old Spanish Governor's Mansion), and directly behind the Cabildo was the Spanish Dungeon. Some find it hard to believe that pirates would hang out between a dungeon and a church.
More likely, the term reflected an expression of the times. Just as we hear today, expressions like "being brought to the lock-up" or being "stuffed into a paddy wagon", it most likely was an expression that suggested being thrown into the dungeon. It may have been something like "they will take you down Pirate Alley." Who knows?
Location
The alley is one block long, and extends from Chartres St. at Jackson Square to Royal St. Halfway down the alley, a lamppost marks its intersection by Cabildo Alley, which extends (the width of the Cabildo) to St. Peter St. This is likely one of the most famous lampposts of the French Quarter, as long and as often as Pirate Alley has been photographed and painted.
Located in Pirate Alley, but closer to Royal St., is the Faulkner House, named for William Faulkner who wrote his first novel while residing there. Right across the alley is the iron fence of St. Anthony's Gardens (part of the St. Louis Cathedral). It is on this fence that the participants of the annual New Orleans Spring Fiesta Pirate Alley Art Show display their work each spring.
If you visit Pirate Alley often, you will find it to be, at times, as warm as a springtime morning courtyard, or as foreboding as a cold, dark, fog shrouded London Street. Morning, noon, evening and night, for the four seasons, its appearance and character is ever changing. Always have your camera so that you can take photographs.
Lafitte's Blacksmith Shop
This building, now a tavern, is one of the oldest buildings in the French Quarter, and was reputedly once used by the privateer Jean Lafitte.
One of the all-time favorite tourist attractions of the New Orleans French Quarter is Jean Lafitte's Blacksmith Shop, on the corner of Bourbon Street and St. Phillip Street. It was built sometime before 1772, and is one of the few remaining original "French architecture" structures in the French Quarter.
Two devastating fires, one in 1788, and the other in 1794, all but destroyed New Orleans. Hundreds of buildings - businesses and residences - were destroyed. New Orleans, and Louisiana, was under Spanish rule at the time, and the city was rebuilt as a Spanish styled city, replacing what was a crudely built French port and trading post.
Tradition has it that the Lafitte brothers operated this blacksmith shop as a legitimate appearing business, serving as a front for their privateer enterprises. One of the brothers was the infamous Jean Lafitte, Privateer, and co-hero of the Battle of New Orleans. Rumor has it that his treasure is buried in everyone's backyard. There are many myths and rumors about the life of Jean Lafitte, but very little has been substantiated.
We do know that Jean Lafitte operated from Barataria Island in Barataria Bay, south of New Orleans. The local authorities knew where his camp was located, and even succeeded in overrunning it once. Because of his assistance to Andrew Jackson during the Battle of New Orleans, he received a Presidential pardon, and then disappeared into the foggy mists, for all time. Later, The United States built Fort Livingston on his island, and its ruins are there to this day. If you visit the Town of Lafitte, you may get a boat ride to the island.
For the past several decades, Lafitte's Blacksmith Shop, privately owned, is operated as a bar and restaurant, and is a favorite haunt for tourists and locals alike. I must confess, that back in the 1960's, I was a student at the Jean McCrady Art School, across the street and down the block. There were many nights when our class, having finished our work for the evening, would adjourn to the Blacksmith Shop for a cold nightcap. Today, it remains a popular gathering place, and a favorite haunt for the New Orleans Kats and French Quarter Rats.
---
Jackson Square is the heart of the French Quarter: a beautifully landscaped park surrounded by shops, artists, museums, the St. Louis Cathedral, and just across from a splendid view of the Mississippi River.
For decades, artists have hung their paintings on the fence of Jackson Square. Here, tourists watch them paint, draw, and do caricatures and portraits.