A Christmas Carol, Playing Through December 23
Le Petit Théâtre du Vieux Carré, a notoriously haunted site in the French Quarter, is joined by four more ghosts this holiday season ­– the Ghosts of Christmas Past, Christmas Present and Christmas Yet-to-Come. But, wait, didn't we say four ghosts? We did! There's Ebenezer's Scrooge's old partner Jacob Marley, wrapped in chains and dappled with cemetery dust.
'Tis the season to head to the French Quarter the spirited A Christmas Carol. Unlike the faded, old black and white movie versions of Charles Dickens' 1843 novella, this theatrical version is vibrant and more relevant somehow – and not just because of the inventive special effects. We think it's because the world's most famous miser, Ebenezer Scrooge (delightfully portrayed by Bob Edes) learns lessons about love, generosity and kindness – things that are especially important to remember this time of year. By the end of the play, Scrooge's mutterings of "Bah Humbug" are replaced by Tiny Tim's famous line, "God bless us everyone." It's a lovely transformation, one everyone should witness on the stage.
Along with a talented adult cast (we were especially taken with Edes and Zeb Hollins III who played the Ghost of Christmas Present), the play features 20 young artists from Le Petit's new Young Conservatory Program. The production, filled with magic and morals, was directed by Maxwell Williams, Le Petit's artistic director.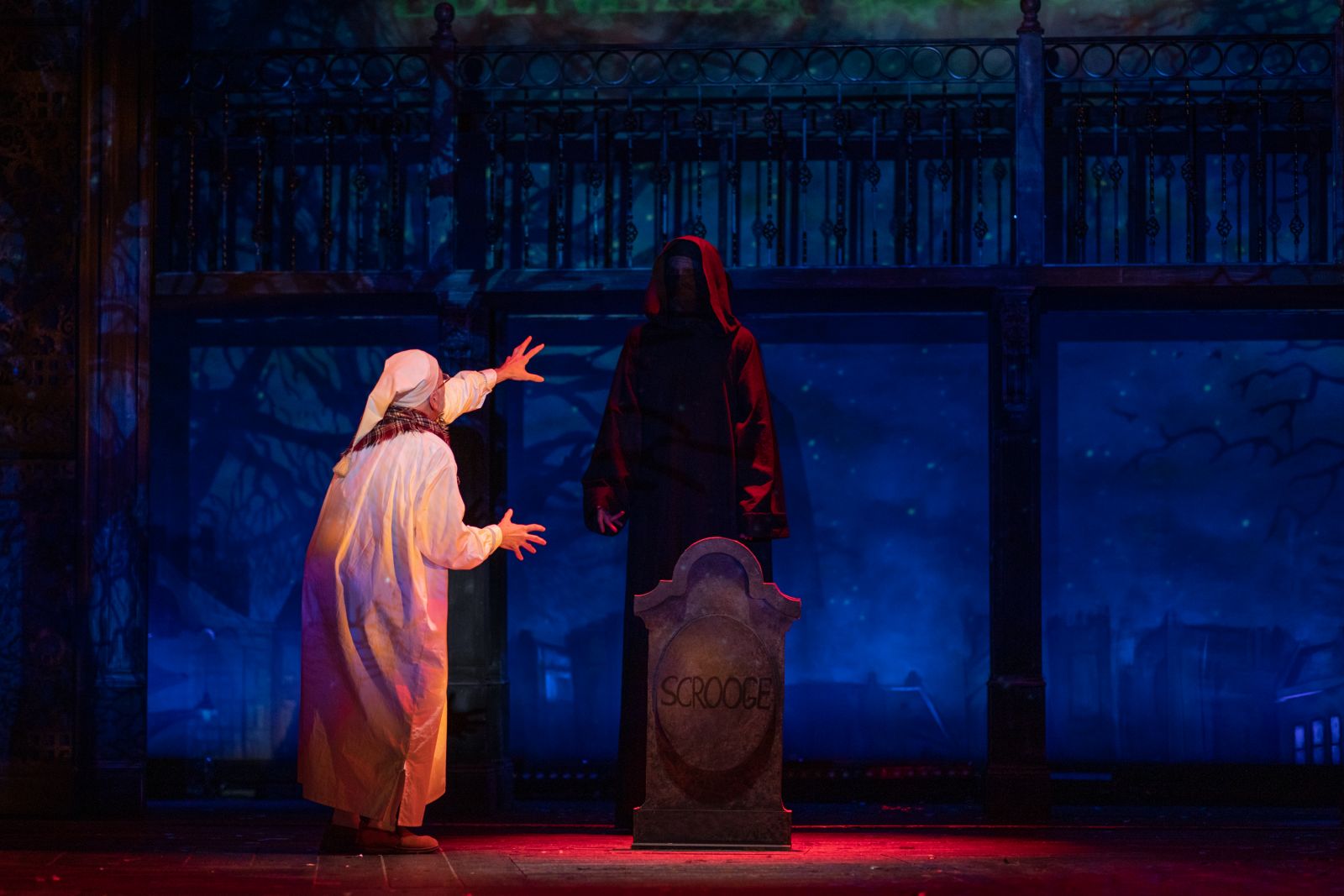 A Christmas Carol will run through December 23, with performances on Fridays at 7:00 p.m., Saturdays at 2:00 and 7:00 p.m. and Sundays at 3:00 p.m. There will be additional performances on Thursday, December 13 at 7:00 p.m. and Sunday, December 23 at 1:00 and 5:30 p.m. If you can't make it this year, there's always next. They're hoping the play will become a holiday tradition.

Ticket prices range from $35-55 for adults and $15 for students. You can buy them online or call the box office at 504.522.2081 x1.