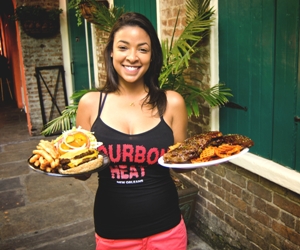 August in New Orleans is hot. Locals like to spend the afternoon hours of this month dodging the humidity, indoors, sipping something cold. On the other hand, there are a lot of reasons why it could be considered the city's best time of year. Hotels charge less for rooms, the streets are less crowded, and there's plenty of festivals and entertainment to keep everyone happy.
COOLinary New Orleans is one our favorite events, and ways to cool down, in August. During this culinary festival of sorts, many of the best restaurants in the city get together and offer great dining deals. Three-course lunches are $20 or less, and three-course dinners are $35 or less. It's a great time to try out different places, and the best part is that you have the entire month to do it. COOLinary runs for the entire month of August.
Over 50 restaurants are participating this year, but we've narrowed the list down to the 14 that we are the most excited about:
· 7 On Fulton – Don't let its sleek design and contemporary dining fool you. This Warehouse District dining experience is as warm and romantic as it gets.
· Arnaud's Restaurant - If Creole dining is what you're craving, Arnaud's Restaurant is the place to go. Dine in one of the 14 dining rooms, visit the Mardi Gras Museum on the second floor, or grab a cocktail and cigar at the French 75 bar.
· Bombay Club - Just a block from Bourbon Street, the wingback chairs and candle light might make you think you've been transported to an old, English gentleman's club.The food is mostly Creole, and the drink options go on for days.
· Bourbon Heat - Bourbon Heat is the perfect mix of Bourbon Street night life and Creole dining. Expect a more energetic atmosphere than other restaurants on the list.
· Chef Duke's Cafe Giovanni - A "New World Italian" restaurant that features live opera performances three nights a week. Dress is business-casual.
· Court of Two Sisters - This restaurant is most famous for its daily jazz brunch, which features over 80 different menu items. The dinner menu offers mostly Creaol dishes, usually with a slight twist by the chef.
· Deanie's Seafood Restaurant - This classic seafood restaurant is respected for a reason. Whatever you order is going to be good, but we recommend their boiled seafood the most - it's the best in the city.
· Gordon Biersch Brewery Restaurant - Sure, Gorden Biersch is a chain restaurant, but it holds its own against local New Orleans eateries. Plus, they brew their own beer on-site, and their pecan crusted chicken is one of our favorites.
· GW Fins - Named in the "Top 10 Seafood Restaurants in America" by Forbes.com, GW Fins is a favorite local haunt. Not only is the seafood amazing, the wine list is pretty impressive too.
· Kingfish - The atmosphere of this Louisiana-centric restaurant is beckons back to the Huey P. Long Era. Grab a drink from the cocktail bar and enjoy the creative cooking of cefs Greg Sonnier and Chris McMillian.
· Pelican Club - Even the pickiest eater will enjoy the Pelican Club. It offers a wide range of food, most of which are imaginative takes on old standbys. It's easy to miss, so keep an eye out when you're walkign down Exchange Alley.
· Ralph & Kacoo's - Shrimp Beignets and Blackened Gator. Need we say more? Actually, yes - the kid's menu starts at $3.99, so it's a great option if you're looking for a restaurant that's kid-friendly and wallet-friendly.
· Royal House Oyster Bar - What would this list be without an oyster bar? This is one of the best, and the atmosphere is just as pleasant as the seafood. It also has an interesting history, so be sure to ask your waiter about it.
· Tujague's - Sip on a cocktail at the two-century-old stand-up bar, and order one of Tujaque's famous piquant shrimp remoulade. For being the second-oldest restaurant in New Orleans, it hasn't even begun to lose its touch.
If you go to one of these restaurants, be sure to upload a photo and a description of your experience to our Facebook page.