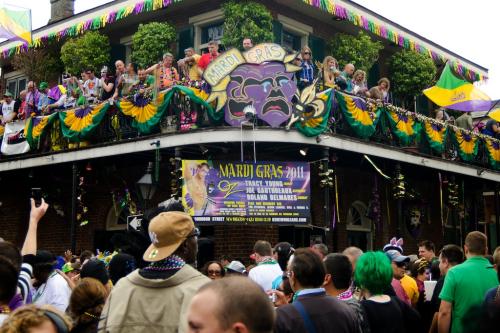 But I have a feeling they won't last long!
For my fellow procrastinators that like to wait to the last minute and live dangerously, I have a little bit of good news for you. As of the writing of this post, there are still some hotel rooms available for the 2013 Mardi Gras season in New Orleans.
However, please hurry because I know that they won't stay unreserved for long and I don't want you to not be able to come to Mardi Gras because you don't have a hotel room to stay in.
Please note, that this was the availability of the rooms at the time of this writing. I can't guarantee any rooms are still there, but it sounds like if you visit the hotels listed here, you will be able to get a room…if you hurry.
Most hotels allow you to make your reservations online or via the phone. If you call, let them know that you found their hotel via Experience New Orleans.
Rooms Available For Mardi Gras 2013
905 Royal Hotel: This beautiful hotel built in the 1890's comes with all of the special touches that you'd expect from a French Quarter hotel. They have just two suites left and both suites overlook the famous Royal Street.
Chateau Dupre Hotel: This hotel has been home to statesmen, magnates, matriarchs of New Orleans, and now you can stay there for Mardi Gras. They are down to five rooms that are available during various times during the Mardi Gras season.
French Quarter Chateau LeMoyne: The Chateau LeMoyne features oversized guest rooms, beautifully furnished suites and a voluptuous list of amenities. This hotel is located in the French Quarter, just a block away from Bourbon Street on Dauphine Street.
Hilton Garden Inn New Orleans Convention Center: Located steps away from the Convention Center and just a short distance from many of the parades and all of the excitement that is the French Quarter during Mardi Gras.
Holiday Inn French Quarter: Location, location, location. It doesn't get much closer to the parades on Canal Street and the action in the French Quarter than at the Holiday Inn. Yet, it's just far enough away from Bourbon Street where you can still get a relaxing night's rest when you're ready to turn in for the evening (or morning).
Hotel Indigo: This is a brand new hotel on St. Charles Avenue in the Garden District. It doesn't get much more on the parade route than this hotel where a number of parades pass by daily during Mardi Gras season.
Hotel Provincial: Known for it's charm and hospitality is the Hotel Provincial. Located in the residential section of the French Quarter, is a hotel that mixes history and modern conveniences to make a place to stay that keeps guests coming back year after year.
Hotel St. Pierre: The New York Times said the Hotel St. Pierre is the place to stay in New Orleans. This hotel is listed on the National Register of Historic Places and still has a few guestrooms and suites available.
Lafitte Guest House: The Lafitte Guest House is an elegant French style mansion that's been transformed into a luxury boutique hotel. It's located on Bourbon Street in the French Quarter, but in the residential section so you'll be close enough to walk to all of the action, but far enough away to get a comfortable sleep.
Maison Dupuy Hotel: The Maison Dupuy is located just two blocks from Bourbon Street and mixes history and luxury for the perfect hotel experience. It was recently renovated and continues to be one of the area's premier hotels.
The Pelham Hotel: Right near where many of the parades pass on Canal Street is the Pelham Hotel. It is a unique boutique hotel with a setting reminiscent of old-world European grace. They have rooms left for the nights of February 10-12.
The Prytania Park Hotel: Located in the Garden District and less than half a block away from many of the major parades on St. Charles Avenue is this quaint and beautiful hotel. They have two junior queen suites available, but hurry they don't expect these to last long.
Ramada Metairie: Located just outside of the city, but a very short drive or taxi ride to all of the major Mardi Gras parades is the Ramada Metairie. They have the following dates still available January 25-30, February 3-7 and February 9th through 12th.
St. Christopher Hotel: This Best Western Plus is located in a historic building a short distance from the parades that pass on Canal Street and just a few blocks from Bourbon Street and the rest of the extravagance in the French Quarter.
A couple of related FYI's, be prepared for three night minimum stay requirements at many of the hotels on this list (or any hotel in New Orleans during Mardi Gras), especially if you're making reservations that include a Saturday night. Also, it's worth looking outside of New Orleans proper, there are still rooms available in the suburbs of Metairie and along the Westbank.
Parade Packages For Mardi Gras 2013
Not hotel rooms, but if you're coming in to town for Mardi Gras, Zea Rotisserie & Grill has parade packages still available. Their packages include a view looking over St. Charles Avenue, all you can eat buffet, complimentary drinks, free parking and the all so important bathroom access.
Rooms Available For Super Bowl XLVII
I've heard of folks going as far as Baton Rouge for Super Bowl hotel rooms, if you're quick you can have a lot shorter of a walk and stay at the HH Whitney House in New Orleans. This Bed and Breakfast still has two rooms available.
Good luck and I hope you find the perfect room for your trip to New Orleans.