Rudolph Guides Santa. Let Us Guide You.
Whether you're a child or just feel like one during the holidays, festive fun awaits in New Orleans. Enjoy traditional Réveillon dinners at your favorite restaurants and other festive events, some of which are virtual this year. And as far as shopping goes, Santa's most unique workshop is right here in New Orleans where hundreds of artists create gifts in all price ranges. Shop, eat and get in the holiday spirit this year in NOLA.
---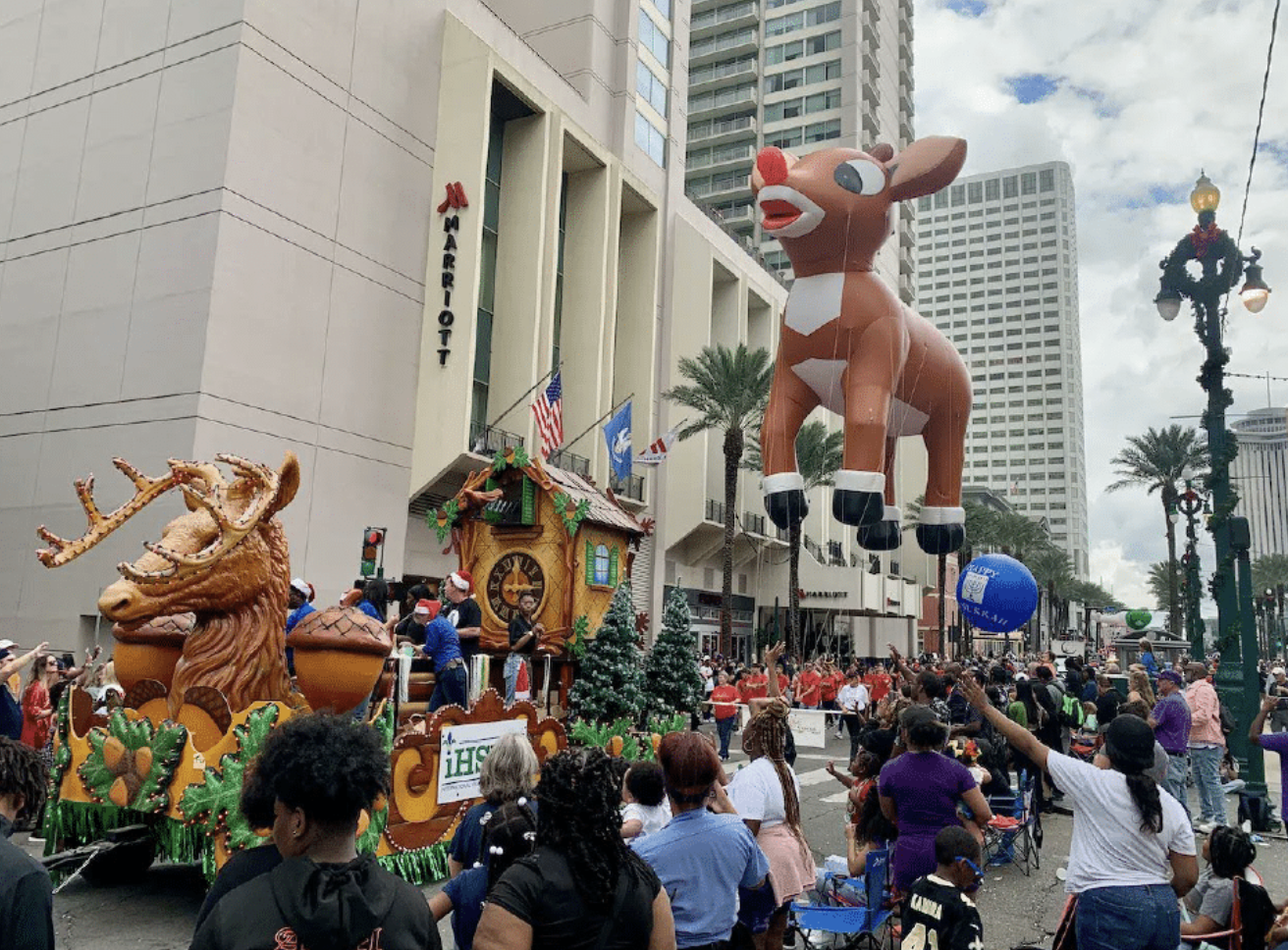 Children's Hospital New Orleans Holiday Parade
- December 2 starting at 11 a.m.
The 2nd Annual Children's Hospital New Orleans Holiday Parade will roll Saturday, December 2 starting at 11 a.m. with more than 30 floats from Kern Studios, including holiday-themed floats with animatronic props, intelligent lighting systems, special effects and audio systems. The parade will also feature high-flying helium balloons, and some of our city's most beloved marching groups and bands. Santa and his krewe from the North Pole will be tossing beads as well. An after-party celebration at Lafayette Square will take place at the end of the parade. Learn more.
---
Jazz Brunch with Santa at The Court of Two Sisters
- December 19, 20, 21 & 22
Santa is holding court this December at one of New Orleans' favorite restaurants, The Court of Two Sisters in the French Quarter. Dash to Royal Street for brunch, live jazz, a visit with Santa, and a gift for every child (naughty or nice, we're told). Reservations are required and space will fill up quickly.
Christmas Eve Bonfire Adventure Tour with Gray Line
- December 31
Make Louisiana-style memories this year with the all new Christmas Eve Bonfire Adventure Tour. Includes motor coach transportation, a tour of San Francisco Plantation, a holiday meal and the bonfires.
---
Photo by: Tyler Scheuemann
Candlelight Caroling in Jackson Square
- December 17
This year, the Patio Planters will once again be presenting Candlelight Caroling in Jackson Square on December 17 at 7 p.m. (Gates open at 6:30 p.m.) This is truly a moving experience. Come be part of it!
---
The Skivvies: Best In Snow
- December 20 & 21
The Christmas party of the year is taking place at Le Petit Theatre this year! Broadway's Lauren Molina and Nick Cearley perform stripped-down, mashed-up holiday renditions of your holiday favorites.
Click for tickets and more info
---
NOLA ChristmasFest
- December 21-30
Join the festive fun at Convention Center's 10th annual NOLA ChristmasFest indoor festival. Come experience almost 300,000 square feet of rides, giant ice slides, an ice skating rink, Santa and friends, gingerbread houses, decorated trees and more!
---
Celebration in the Oaks
- Through December 30
For more than 30 years, New Orleans has been heading out to City Park for one of the most popular holiday displays in America. Experience ancient live oak trees dripping in hundreds of thousands of lights and 25 acres of holiday displays. Enjoy unlimited rides at the Carousel Gardens Amusement Park and the outdoor bar at the Botanical Garden.
---
Christmas Eve Jazz Cruise on the Steamboat NATCHEZ
- December 24
Spend a glittering Christmas Eve with live music, festive cuisine and a sunset on the Mississippi River. View menu. The Steamboat NATCHEZ is also offering several other holiday adventures. Click the link to learn about their Under the Mistletoe Party Package, their Evening Jazz Cruise Featuring Algiers Bonfires and more.
---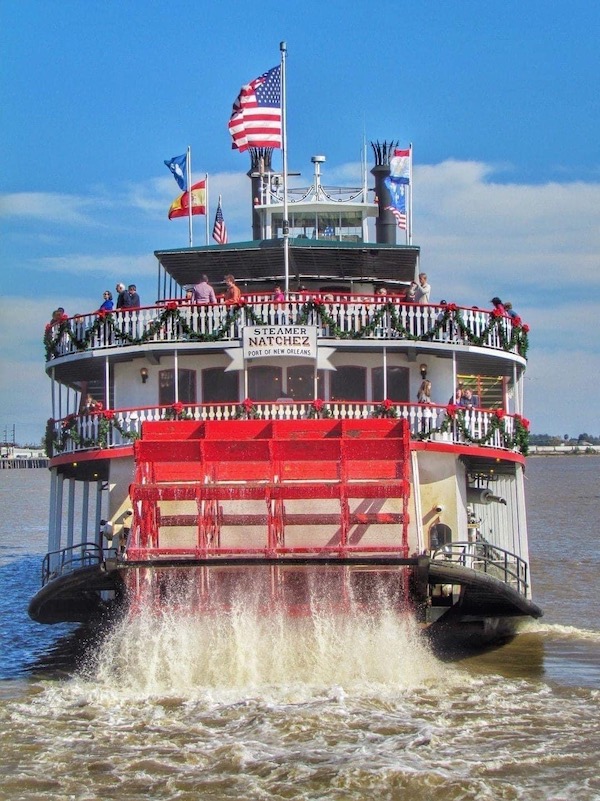 New Year's Eve Celebration aboard the Steamboat NATCHEZ
- December 31
Greet Baby New Year on Old Man River from the decks of the Steamboat NATCHEZ. There will be live entertainment by the local group "Lil Red and Big Bad" and a festive menu.
---
90th Annual Allstate Sugar Bowl and New Year's Parade
- December 31 & January 1
On New Year's Day, the Allstate Sugar Bowl will kickoff in the Superdome. It's the second-oldest bowl game in the country (since 1935) and we think it's the most fun! Activities around the event include a Sugar Bowl Parade on New Year's Eve at 3 p.m.
---
Holiday Festivities at Canal Place
- All December
Canal Place is the place to celebrate this holiday season. Classical and jazz trios and duos will perform Saturdays and Sundays from 1-4 p.m. through Christmas Eve. And every Saturday at 10 a.m., Prytania Theaters at Canal Place will host Movies with Santa with a special showing of holiday movies. Tickets can be purchased at theprytania.com/canalplace for $10 each and include a movie, popcorn and soft drink. Come see Jack Frost (Dec. 2), Elf (Dec. 9), Polar Express (Dec. 16) and How the Grinch Stole Christmas (Dec. 23). And finally, The Westin New Orleans at Canal Place will host a Santa Brunch, Saturday, Dec. 2 from 7 a.m.-1 p.m. with a buffet and a cookie decorating station. For reservations, call The Westin New Orleans at (504) 566-7006.
Go to: Holiday Gift Card Offers from Your Favorite New Orleans Restaurants