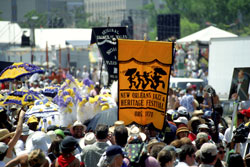 The New Orleans Jazz Fest lineup was announced early this morning, and there are plenty of reasons to be in the Crescent City from April 29th to May 8th.

Rock icons like Bon Jovi, Jimmy Buffett, John Mellencamp, the Neville Brothers, Willie Nelson, and Robert Plant will all take the stage. Jazz Fest also includes an array of more recent rock and hip-hop stars with Arcade Fire, Kid Rock, Wyclef Jean, The Strokes, Ms. Lauryn Hill, Jason Mraz, Robert Randolph & the Family Band, the Avett Brothers, Mystikal, Mumford & Sons, John Legend & the Roots, and many, many more.

The New Orleans Jazz Fest will extend over two weekends, with concerts on Friday (4/29) through Sunday (5/1) and on Thursday (5/5) through Sunday (5/8). The entire festival will rock the city at the Fair Grounds Race Course, located 1751 Gentilly Boulevard, 10 minutes from the French Quarter.

If you are interested in attending the festival - and with this year's amazing lineup, you should be! - be sure to purchase your tickets and make your hotel reservations as early as possible. The city will fill up during Jazz Fest, and you'll want to make sure you have the chance to be here!

Get the full lineup and create your own custom schedule at the New Orleans Jazz Festival website.